Difficulties and misunderstandings at work are a given and dealing with difficult situations are not always easy.
Do we allow our mind to have its say, or do we allow our heart to lead the way?
Mind is all about dramatic stories:
My boss betrayed me when…
My colleague is being mistrusted by…
My team disrespected me and…
We can all fill in the blanks.
The stories we tell ourselves about the people we work with and the things that happen are not objective truth. They are our interpretation of events, reflecting our own thoughts about people and events.
When we lead with heart we lead from within. We deal with love, not judgment. We reply with respect, not excuses.
We listen to discover and explore.
Leadership from within deals with the heart of the matter.
When you lead with heart, your actions are grounded in non judgment.
Instead of looking to blame, or to make excuses, leading with heart looks beyond.
Instead of a constant loop of victim hood, it causes us to think and act in ways that are beyond conscious mind.
Even when the case is one of absolute betrayal, abuse, or violent communication, we do not look to blame but seek to understand.
As leaders from within we carry a responsibility to seek answers and understanding:
What has caused my boss to betray me?
What has caused my colleague to be mistrusted?
What has caused my team to disrespect me?
In asking the questions we are seeking to understand and to learn from the heart.
Lead From Within: Heart is the energy that removes the dysfunctions of the stories we tell ourselves in our life and leadership.
---
N A T I O N A L B E S T S E L L E R
The Leadership Gap: What Gets Between You and Your Greatness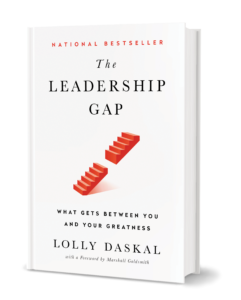 After decades of coaching powerful executives around the world, Lolly Daskal has observed that leaders rise to their positions relying on a specific set of values and traits. But in time, every executive reaches a point when their performance suffers and failure persists. Very few understand why or how to prevent it.
---
Additional Reading you might enjoy:

Photo Credit: Getty Images
---
Lolly Daskal is one of the most sought-after executive leadership coaches in the world. Her extensive cross-cultural expertise spans 14 countries, six languages and hundreds of companies. As founder and CEO of Lead From Within, her proprietary leadership program is engineered to be a catalyst for leaders who want to enhance performance and make a meaningful difference in their companies, their lives, and the world.

Of Lolly's many awards and accolades, Lolly was designated a Top-50 Leadership and Management Expert by Inc. magazine. Huffington Post honored Lolly with the title of The Most Inspiring Woman in the World. Her writing has appeared in HBR, Inc.com, Fast Company (Ask The Expert), Huffington Post, and Psychology Today, and others. Her newest book, The Leadership Gap: What Gets Between You and Your Greatness has become a national bestseller.
---