In 2000 under the leadership of CEO John Chambers, Cisco was at the top of the game. For a couple of days its market cap was number one in the world.
Then in early 2001 came an industry-wide crash, and suddenly Cisco was near death.
Chambers later said that if somebody had told him they would go from 70 percent growth to minus 30 percent growth in 40 days, he would have said it was mathematically impossible.
The company was in a free fall. At its peak in 2000 Cisco stock was $80 a share. By 2002, it was down to $9.42.
Cisco was in deep trouble. But Chambers was intent on turning things around. And he went on to make some great judgment calls.
Within five years, the stock had rebounded to $28 a share with market capitalization of $170 billion.
Chambers' judgment helped produce one of the most dramatic turnarounds in business history. But this CEO whose leadership transformed and revitalized the company was the same one who was at the helm when it tanked.
And for Chambers, the task was to figure out where he had gone wrong and how to correct the situation. He needed to figure out what had brought them to the bottom.
What brought you here won't get you there.
Many said he should have sensed and identified the crisis earlier, because the signals were there.
But leaders are human, thank God. And because we are human, we sometimes have blinders. We get attached to people. Our view of the facts can become distorted, and we don't want to believe the worst can happen. But when the day comes that you look around and realize it has happened, what do you do?
Chambers crafted his comeback using a four-point strategy:
Make heart based judgment calls by processing, preparing, planning and proceeding.
Process: First he framed what had happened, and what was occurring in the present. He listened, he observed, he learned, he thought.
Prepare:  After assessing all that had occurred, he began laying the groundwork for what needed to happen next. Extensive discussions took place and judgments began to form.
Plan: Then came the time for decisions. Chambers' plan involved deep staff cuts and a moratorium on acquisitions. But he was also insistent on changing how the company worked together, breaking down silos and reversing the free-spending culture.
Proceed: As he carried out his plan, he kept his focus on a single goal: saving the company.
A good judgment call doesn't happen with a simple adjustment here and there. It requires complex adjustments, putting together all the pieces to create a plan that can be successfully executed.
It requires the ability to sense and learn—which are the same abilities that can best help to prevent a crisis from forming.
A great leader is always sensing and learning.
Heart-based leaders already know how to do these things, because they represent the wisdom of the heart. As you're processing, preparing, planning and proceeding through any situation, learn to trust what you're sensing and your ability to separate the important signals from the unimportant.
Lead From Within: Heart-based leaders sense and make good judgment calls well before circumstances become a crisis. Climbing is the only cure for gravity.
---
N A T I O N A L   B E S T S E L L E R
The Leadership Gap: What Gets Between You and Your Greatness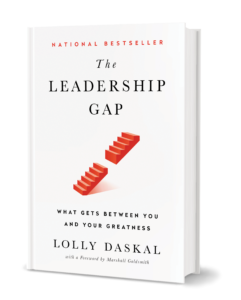 After decades of coaching powerful executives around the world, Lolly Daskal has observed that leaders rise to their positions relying on a specific set of values and traits. But in time, every executive reaches a point when their performance suffers and failure persists. Very few understand why or how to prevent it.
---
Additional Reading you might enjoy:

Photo Credit: Getty Images
---
Lolly Daskal is one of the most sought-after executive leadership coaches in the world. Her extensive cross-cultural expertise spans 14 countries, six languages and hundreds of companies. As founder and CEO of Lead From Within, her proprietary leadership program is engineered to be a catalyst for leaders who want to enhance performance and make a meaningful difference in their companies, their lives, and the world.

Of Lolly's many awards and accolades, Lolly was designated a Top-50 Leadership and Management Expert by Inc. magazine. Huffington Post honored Lolly with the title of The Most Inspiring Woman in the World. Her writing has appeared in HBR, Inc.com, Fast Company (Ask The Expert), Huffington Post, and Psychology Today, and others. Her newest book, The Leadership Gap: What Gets Between You and Your Greatness has become a national bestseller.
---