We live much of our lives with society telling us what to do, people telling us how to think, technology and the media telling us what to buy, and the culture telling us all the ways we need to make ourselves better.
The last of our freedoms lies is in the choosing for ourselves who we are in the present moment.
Choice is freedom. It's about knowing what we excel at, what we are strong at, in what our heart inclines us to, and it leads us to carry those things forward and share them with others—not by compulsion, but by our own inner inclinations.
It's choice, not chance, that will determine our leadership.
Leadership begins with taking response-ability—responding with our abilities and with our choices about how to use those abilities.
It's our choice to make a difference with our gifts. And that choice is composed of the smaller choices that we make every day.
Choose self.  When we spend time learning, discovering, exploring, engaging in self-development—we are choosing leadership.
Choose purpose. When we align ourselves with our purpose and values so we can be of service—we are choosing leadership.
Choose skills. When we contribute our talents and skills to bring value and support others—we are choosing leadership.
Choose vision. When we articulate a vision and work to get people to move there—we are choosing leadership.
Choose courage. When we look fear in the face and demonstrate courage and tenacity because we believe in the greater good—we are choosing leadership.
Choose results. When we conceptualize solutions—maybe even before others are aware there is a problem—and we are able to articulate an action that needs to be taken—we are choosing leadership.
A leader is not born; a leader makes the conscious decision to lead.
A life of leadership is not a once-in-a-lifetime decision—it's one that you make over and over again. It grows out of a simple realization:
Things do not just happen. They are chosen to happen.
I believe that we are solely responsible for our choices, and we have to accept the consequences of every deed, word, and thought throughout our lifetime—and by doing so, we make the impact we are meant to make.
 Leaders try to be the best person they can be by making the best choices they can to bring the best of their talents to the service of the world.
Lead from within:  Right now, you have a choice about what you are becoming. Believing in yourself, knowing yourself, wanting to be of service to others, having vision—these things are at the root of all leadership. What will you choose?
---
N A T I O N A L   B E S T S E L L E R
The Leadership Gap: What Gets Between You and Your Greatness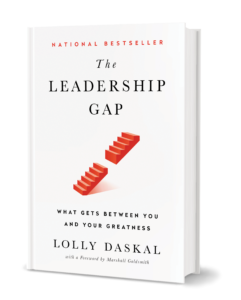 After decades of coaching powerful executives around the world, Lolly Daskal has observed that leaders rise to their positions relying on a specific set of values and traits. But in time, every executive reaches a point when their performance suffers and failure persists. Very few understand why or how to prevent it.
---
Additional Reading you might enjoy:

Photo Credit: Getty Images
---
Lolly Daskal is one of the most sought-after executive leadership coaches in the world. Her extensive cross-cultural expertise spans 14 countries, six languages and hundreds of companies. As founder and CEO of Lead From Within, her proprietary leadership program is engineered to be a catalyst for leaders who want to enhance performance and make a meaningful difference in their companies, their lives, and the world.

Of Lolly's many awards and accolades, Lolly was designated a Top-50 Leadership and Management Expert by Inc. magazine. Huffington Post honored Lolly with the title of The Most Inspiring Woman in the World. Her writing has appeared in HBR, Inc.com, Fast Company (Ask The Expert), Huffington Post, and Psychology Today, and others. Her newest book, The Leadership Gap: What Gets Between You and Your Greatness has become a national bestseller.
---