After years of research and work with married couples, noted psychologist John Gottman discovered that it takes five positive comments to negate the effects of just one negative comment.
Over the past decade scientists have applied this finding to a number of contexts. It turns out this positive-to-negative ratio applies to more than just interpersonal relationships. It also determines workplace performance

People who work hard want to feel appreciated for their work.
Sometimes we as leaders, with our busy schedules and long to-do list, fail to provide positive feedback to the people we lead and to acknowledge the people that matter.
Many organizations are lacking leaders who communicate how individuals' accomplishments affect the larger organization
On a personal scale, people don't always communicate how much other people's strengths have helped them.
So why do so many people go unappreciated?
Because we are too busy, and we forget, and even though it is intuitive to voice our appreciation we do not take the time to do it.
Lack of acknowledgement leaves team members feeling disconnected and disregarded.
Lack of seeing the good leaves people unappreciated and unsatisfied.
We must build appropriate personal relationships with employees and purposefully listen to what energizes people.
In doing so, we will be able to benefit from their strengths and their presence.
In a culture where so many leaders highlight challenges and weaknesses, we must recognize that acceptance, awareness and acknowledgement will affect our team's performance.
So what happens when we do take the time to look for the good first?
It demonstrates that we care.
It shows that we see them.
It validates their sense of worth.
It confirms their roles and purpose.
It allows them to take ownership for what they do.
True leaders are great at first seeing the good.

We must spot great work and then acknowledge it. When we recognize dedicated others, we must take the time to praise them.
By engaging the heart of your people, you will get the best of what they have to offer.
By embracing the mind of your people, you will get them to be responsible for performance.
By embracing the will of your people, you will get them to be passionate.
The necessary focus on employee appreciation requires a profoundly different leadership attitude, a change in the corporate mindset, and new formation of our organizational make up.
When we invest in our people, they are more engaged and connected.
People work harder when they are rewarded.
Making time to first see the good and to acknowledge people for their efforts and contributions must be made a priority. Rely on your intuitive feeling to always lead the way. Make the time to do it – now, and every time.
Recognition is the bridge to a brighter tomorrow and a successful future.
Seeing the good in others is the secret ingredient for a getting great things done.
When people are recognized, they feel connected and counted and they become passionate about their work, their life, and their purpose.
Lead from Within: Showing appreciation is not a matter of intention and attention, but a matter of priority and performance and every leader is about first seeing the good.
---
N A T I O N A L   B E S T S E L L E R
The Leadership Gap: What Gets Between You and Your Greatness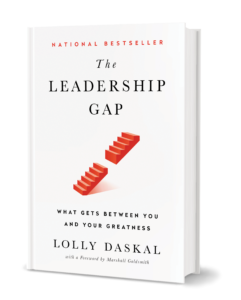 After decades of coaching powerful executives around the world, Lolly Daskal has observed that leaders rise to their positions relying on a specific set of values and traits. But in time, every executive reaches a point when their performance suffers and failure persists. Very few understand why or how to prevent it.
---
Additional Reading you might enjoy:

Photo Credit: Getty Images
---
Lolly Daskal is one of the most sought-after executive leadership coaches in the world. Her extensive cross-cultural expertise spans 14 countries, six languages and hundreds of companies. As founder and CEO of Lead From Within, her proprietary leadership program is engineered to be a catalyst for leaders who want to enhance performance and make a meaningful difference in their companies, their lives, and the world.

Of Lolly's many awards and accolades, Lolly was designated a Top-50 Leadership and Management Expert by Inc. magazine. Huffington Post honored Lolly with the title of The Most Inspiring Woman in the World. Her writing has appeared in HBR, Inc.com, Fast Company (Ask The Expert), Huffington Post, and Psychology Today, and others. Her newest book, The Leadership Gap: What Gets Between You and Your Greatness has become a national bestseller.
---