As leaders we sometimes get confused with the concepts of being a leader of doing.
What did I do for my team today?
What did I do for my organization yesterday?
We may want to revisit the concept that doing is our being.
Because the sad truth is this: What we are doing is not necessarily what we are being.
When we start to think too much about ourselves in terms of impressions of our own leadership on others, it creates a way of thinking that dominates our responses and reactions. It can even color our perception.
We may think, "Look at all I'm doing! That is my leadership," and we may get caught up in a cycle of feeding ourselves this misconception as truth. But all we are really doing is blocking out the real self, the real light, the real leadership.
If you want to stop identifying yourself with the conceptual self, if you want to stop confusing doing with being, you need to find the real you – the hidden you, the unknown you, the true being. You do that by maintaining the distinction between your activities and who you are.
Start looking deeper inside yourself to discover the core convictions of your entire self, your real being.
Buried inside every leader resides the true self, not the conceptual self. When you find it through layers of digging and discovery, with contemplation and courage you will be able to find that you are much more than what you are doing, that you exist as a real being whom you may have disregarded before.
Lead From Within: Think of your conventional sense of self. Is this a real conception of self, or is it confused with complex activities, or with concepts and impressions about who you think you are?
---
N A T I O N A L   B E S T S E L L E R
The Leadership Gap: What Gets Between You and Your Greatness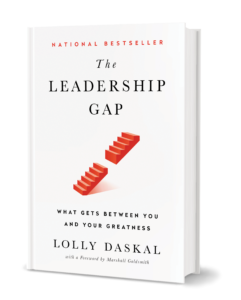 After decades of coaching powerful executives around the world, Lolly Daskal has observed that leaders rise to their positions relying on a specific set of values and traits. But in time, every executive reaches a point when their performance suffers and failure persists. Very few understand why or how to prevent it.
---
Additional Reading you might enjoy:

Photo Credit: Lolly Daskal
---
Lolly Daskal is one of the most sought-after executive leadership coaches in the world. Her extensive cross-cultural expertise spans 14 countries, six languages and hundreds of companies. As founder and CEO of Lead From Within, her proprietary leadership program is engineered to be a catalyst for leaders who want to enhance performance and make a meaningful difference in their companies, their lives, and the world.

Of Lolly's many awards and accolades, Lolly was designated a Top-50 Leadership and Management Expert by Inc. magazine. Huffington Post honored Lolly with the title of The Most Inspiring Woman in the World. Her writing has appeared in HBR, Inc.com, Fast Company (Ask The Expert), Huffington Post, and Psychology Today, and others. Her newest book, The Leadership Gap: What Gets Between You and Your Greatness has become a national bestseller.
---