If you meet a leader who's a loner, who doesn't communicate, who's not engaged, who seems removed and not trusting, it's probably not because they enjoy solitude or disengagement. It's far more likely that they have been disappointed.
We get disappointed when…
People say they are there for you but are not.
People promise but fail to deliver.
People you thought you could trust let you down.
People say one thing and do another.
People you support never acknowledge you.
People take without giving back.
People speak without listening.
Disappointment is like taking a long lonely walk down a long corridor, and the door at the very end is bolted.
Those of us, who have experienced disappointment need to be reminded that in this corridor we have doors to the left and to the right. These are the doors made for our choosing.
As leaders we must choose to:
Respond. Learn to identify and express your feelings. Speak about it instead of letting it fester inside. Disappointment can carry a wide range of emotions; allow yourself to feel whatever you're feeling and find appropriate ways to communicate those feelings.
Reevaluate. Give yourself the distance you need from your disappointment. Allow yourself to realize this is not about you but about someone another's behavior.
Review. As leaders we are always reviewing and reflecting. Take the time to review and think analytically about what happened. Remember the power of forgiveness. But don't forgive and forget—forgive and remember, not to hold a grudge but because there are lessons to be learned.
Remain. Stay congruent with your values. Identify your beliefs and your core convictions, and don't let yourself get caught up in someone else's shadows. Maybe you were disappointed because your core convictions were crossed,  remain steady within yourself.
Recover. Expect to feel uncomfortable. The experience of a major disappointment is confusing and disorienting. It is normal to feel insecure and anxious. These feelings are part of the process, and they will pass.
Rejoin. Build (or rebuild) your support system. Seek the support of friends and family members, especially those who accept you without judgment and encourage you to express your true feelings.
Reject. Turn loose those people and circumstances that do not serve you and your purpose.
Remember. The people who disappoint us are likely people who themselves have been disappointed. You can be the one who ends the cycle.
There will always be people and events that will let us down, and when that happens it can shake us to the core.
Lead From Within: Leadership matters and how we handle our difficulties and disappointments that is what separates us.
---
N A T I O N A L   B E S T S E L L E R
The Leadership Gap: What Gets Between You and Your Greatness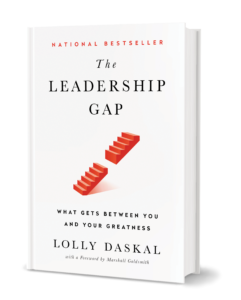 After decades of coaching powerful executives around the world, Lolly Daskal has observed that leaders rise to their positions relying on a specific set of values and traits. But in time, every executive reaches a point when their performance suffers and failure persists. Very few understand why or how to prevent it.
---
Additional Reading you might enjoy:

Photo Credit: Getty Images
---
Lolly Daskal is one of the most sought-after executive leadership coaches in the world. Her extensive cross-cultural expertise spans 14 countries, six languages and hundreds of companies. As founder and CEO of Lead From Within, her proprietary leadership program is engineered to be a catalyst for leaders who want to enhance performance and make a meaningful difference in their companies, their lives, and the world.

Of Lolly's many awards and accolades, Lolly was designated a Top-50 Leadership and Management Expert by Inc. magazine. Huffington Post honored Lolly with the title of The Most Inspiring Woman in the World. Her writing has appeared in HBR, Inc.com, Fast Company (Ask The Expert), Huffington Post, and Psychology Today, and others. Her newest book, The Leadership Gap: What Gets Between You and Your Greatness has become a national bestseller.
---