It is Amateur Night at the Harlem Opera House.
A skinny, awkward 16-year-old goes fearfully onstage. She is announced to the crowd: "The next contestant is a young lady named Ella Fitzgerald. Miss Fitzgerald here is going dance for us…Hold it, hold it."
He bends down to the girl on stage and asks, "Now what's your problem, honey?"
A moment later he announces, "Correction, folks. Miss Fitzgerald has changed her mind. She's not gonna dance, she's gonna sing."
Ella Fitzgerald gave three encores and won first prize.
She may have thought she was setting out to dance, but clearly she was meant to sing.
When we are called to do what we're meant to do we become completely possessed.
We cannot postpone, avoid, or dismiss it.
Whatever it is, eventually it will call you out.
It reveals itself in hints, intuition, sudden urges, and oddities.
It disrupts your life. It makes its claim. You can choose to ignore it, but it will not go away.
For centuries we have searched for the right words to speak about this kind of calling. The Romans named it your genius; the Greeks, your daimon; and the Christians your guardian angel.
The Romantics, like Keats, said the call comes from the heart, and Michelangelo's intuitive eye saw an image in the heart of the person he was sculpting.
To seek out and embrace your calling, think about these questions:
What captives me?
If you want to be someone you've never been, you must go do things you've never done. What holds your heart captive? What calls your attention? What inspires you? Inspiration is a call to proceed even when you're uncertain of goals or outcomes. The nature of the things that excite you hold a clue to your ability to pursue them. Anything that truly intrigues you is evidence of your calling.
What do I need to overcome?
Your calling comes not from what you can do, it comes from overcoming the things you thought you couldn't do.  You don't become great because of what happens to you but because of how you use those experiences. The most difficult or impossible situations are often the most essential to your calling.
How will I express myself?
We each have a unique way of expressing ourselves. True expression takes courage, and to follow your calling is about giving freedom, not gaining control. Your calling lies within the purpose that draws your heart into courageous expression.
Our lives are bigger than we are; we are here to do small things in great ways.
You don't have to wait for great opportunities. Seize the common everyday moments and make them part of your purpose.
Each day is another chance to live our calling. It is impossible for anyone else to define you but you.
Lead From Within: Inspiration comes to us in many ways. Listen for the cues, and incorporate them in your daily living and leading.
---
N A T I O N A L   B E S T S E L L E R
The Leadership Gap: What Gets Between You and Your Greatness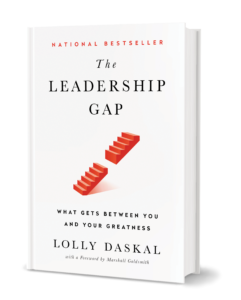 After decades of coaching powerful executives around the world, Lolly Daskal has observed that leaders rise to their positions relying on a specific set of values and traits. But in time, every executive reaches a point when their performance suffers and failure persists. Very few understand why or how to prevent it.
---
Additional Reading you might enjoy:

Photo Credit: Getty Images
---
Lolly Daskal is one of the most sought-after executive leadership coaches in the world. Her extensive cross-cultural expertise spans 14 countries, six languages and hundreds of companies. As founder and CEO of Lead From Within, her proprietary leadership program is engineered to be a catalyst for leaders who want to enhance performance and make a meaningful difference in their companies, their lives, and the world.

Of Lolly's many awards and accolades, Lolly was designated a Top-50 Leadership and Management Expert by Inc. magazine. Huffington Post honored Lolly with the title of The Most Inspiring Woman in the World. Her writing has appeared in HBR, Inc.com, Fast Company (Ask The Expert), Huffington Post, and Psychology Today, and others. Her newest book, The Leadership Gap: What Gets Between You and Your Greatness has become a national bestseller.
---