In Chuck Yeager's book The Right Stuff, he describes a time in the 1950's when an elite group of US Air Force pilots set out to fly at altitudes beyond anything that had ever been attempted before.
As they left the familiar dense atmosphere of Earth, they found that everything they knew about aerodynamics no longer applied.
Nothing they could do would keep their planes under control. By the time Yeager took off, several had already died in the attempt.
Yeager seemed headed for the same fate, with his plane violently out of control—so much that he was knocked unconscious in the cabin.
By the time he came to, the plane had reentered the atmosphere and he was able to regain control and land safely.
When we find ourselves in crisis, we work hard to maintain control. Sometimes the best thing is to let go of the controls and just accept.
Here is what acceptance really is:
Acceptance is not passivity. Acceptance does not mean that we are passive to our situation, but that we see it clearly and honestly accept it. Acceptance means freeing ourselves to get what we need.
Acceptance is not detachment. Acceptance is letting go, allowing what needs to be to be. It doesn't mean we are detached.
Acceptance is not inaction. When we accept, we aren't defining ourselves by inaction, but realizing that sometimes we just have to surrender to the moment.
Acceptance is not powerlessness. To accept means  we allow ourselves to pause rather than rush to a compulsion to react.
Acceptance is not about passivity, detachment, inaction, or being powerless.
Acceptance is about breaking down habitual ways of reacting.

There can be something so liberating by simply accepting rather than having to always control everything.
Lead From Within: When we are accepting rather than resisting we open ourselves to profound new possibilities.
---
N A T I O N A L B E S T S E L L E R
The Leadership Gap: What Gets Between You and Your Greatness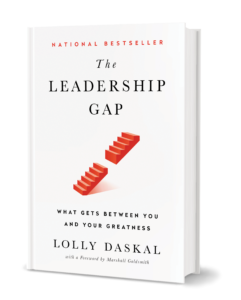 After decades of coaching powerful executives around the world, Lolly Daskal has observed that leaders rise to their positions relying on a specific set of values and traits. But in time, every executive reaches a point when their performance suffers and failure persists. Very few understand why or how to prevent it.
---
Additional Reading you might enjoy:

Photo Credit: Getty Images
---
Lolly Daskal is one of the most sought-after executive leadership coaches in the world. Her extensive cross-cultural expertise spans 14 countries, six languages and hundreds of companies. As founder and CEO of Lead From Within, her proprietary leadership program is engineered to be a catalyst for leaders who want to enhance performance and make a meaningful difference in their companies, their lives, and the world.

Of Lolly's many awards and accolades, Lolly was designated a Top-50 Leadership and Management Expert by Inc. magazine. Huffington Post honored Lolly with the title of The Most Inspiring Woman in the World. Her writing has appeared in HBR, Inc.com, Fast Company (Ask The Expert), Huffington Post, and Psychology Today, and others. Her newest book, The Leadership Gap: What Gets Between You and Your Greatness has become a national bestseller.
---