It's been said that 95 percent of business promotions are based on performance, but results account for only 10 percent of the reasons people follow a leader. The most common reason we follow a leader is because of who they are.
The leaders we remember most, in history or our own past, are the ones who have inspired or empowered us.
We don't usually remember bosses because they were so smart and could figure out spreadsheets in their head. We remember how they made us feel, how they acted.
The reason these leaders are memorable is because they have a sense of their own purpose.
But you would be surprised how many leaders today cannot even identify what is important to them.
Many say they don't identify their purpose because they are too busy and they have too much to do.
Our purpose is the foundation of our leadership success.

It gives us the stability to stand, because when the tough times come (and they do) and the ground beneath us begins to shake (and it will) it is our sense of purpose that keeps us solid.
To know your purpose is to know your meaning.
If you know your meaning is to know your direction
If you know your direction is to know your journey
To find your leadership purpose, ask the following questions:
What are my skills, talents, abilities and passion?
What are my values, my beliefs, and my convictions?
What does it look like?
What does it feel like?
What does it sound like?
 How do others know what I stand for?
What can they observe in me that shows them my purpose?
Those who have failed to work towards their purpose have missed the chance at living successfully.
Lead From Within: Consider where you are now and where you want to go and do what you can to pursue your purpose to find your success.
---
N A T I O N A L   B E S T S E L L E R
The Leadership Gap: What Gets Between You and Your Greatness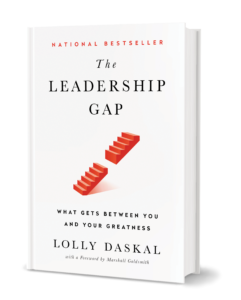 After decades of coaching powerful executives around the world, Lolly Daskal has observed that leaders rise to their positions relying on a specific set of values and traits. But in time, every executive reaches a point when their performance suffers and failure persists. Very few understand why or how to prevent it.
---
Additional Reading you might enjoy:

Photo Credit: iStock Images
---
Lolly Daskal is one of the most sought-after executive leadership coaches in the world. Her extensive cross-cultural expertise spans 14 countries, six languages and hundreds of companies. As founder and CEO of Lead From Within, her proprietary leadership program is engineered to be a catalyst for leaders who want to enhance performance and make a meaningful difference in their companies, their lives, and the world.

Of Lolly's many awards and accolades, Lolly was designated a Top-50 Leadership and Management Expert by Inc. magazine. Huffington Post honored Lolly with the title of The Most Inspiring Woman in the World. Her writing has appeared in HBR, Inc.com, Fast Company (Ask The Expert), Huffington Post, and Psychology Today, and others. Her newest book, The Leadership Gap: What Gets Between You and Your Greatness has become a national bestseller.
---