The leaders we remember most are not necessarily the ones who have a fancy office or important position.
The leaders we remember most, the ones who stand out from the rest, are the ones who are different: in their actions, in their thinking, and certainly in the way they have interacted with us.
The leaders we remember most are the ones who have followed the practices of leadership from within:
They challenged us. They're the ones who showed us we can always be better than we thought we could, who encouraged us to do what we thought was impossible.
They acknowledged us. They took the time to express their gratitude. They provided recognition to us and acknowledged our effort.
They listened to us. They made time to listen and paid attention to what we had to say. They helped us learn what it's like to really be listened to.
They trusted us. Memorable leaders know that trust is at the core of any relationship. When they depended on us, we felt secure and supported, and because of that we became more accountable and responsible.
They made time for us. They made us feel important—they took the time to hear what we had to say. No excuses and no broken promises. They gave us the gift of their time.
They cared for us. By showing us kindness and respect, they created memorable connections and opened our hearts to learn from them.
They supported us. They didn't give us all the answers or solve all our problems. Instead they did something we will never forget: They faced our challenges with us.
They gave us room to make mistakes They're the ones who allowed us to make our own mistakes, helping us learn to look our walls for broader perspectives and deeper insight.
They believed in us. They showed us that one person who believes in you more than you believe in yourself is enough to change your life and leadership forever.
They honored us. By recognizing who we were and who we could become, they inspired us not only to perform better but to be better.
Lead from within: The leaders we remember most are the ones who made the biggest impression—not only in our minds but in our hearts too. They made us feel significant and they let us know we mattered and because they did we will never forget them.
---
N A T I O N A L   B E S T S E L L E R
The Leadership Gap: What Gets Between You and Your Greatness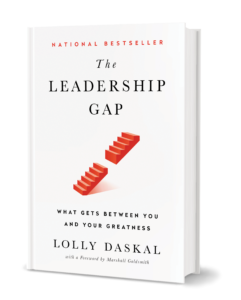 After decades of coaching powerful executives around the world, Lolly Daskal has observed that leaders rise to their positions relying on a specific set of values and traits. But in time, every executive reaches a point when their performance suffers and failure persists. Very few understand why or how to prevent it.
---
Additional Reading you might enjoy:

Photo Credit: Getty Images
---
Lolly Daskal is one of the most sought-after executive leadership coaches in the world. Her extensive cross-cultural expertise spans 14 countries, six languages and hundreds of companies. As founder and CEO of Lead From Within, her proprietary leadership program is engineered to be a catalyst for leaders who want to enhance performance and make a meaningful difference in their companies, their lives, and the world.

Of Lolly's many awards and accolades, Lolly was designated a Top-50 Leadership and Management Expert by Inc. magazine. Huffington Post honored Lolly with the title of The Most Inspiring Woman in the World. Her writing has appeared in HBR, Inc.com, Fast Company (Ask The Expert), Huffington Post, and Psychology Today, and others. Her newest book, The Leadership Gap: What Gets Between You and Your Greatness has become a national bestseller.
---