Many of us lead, but not many of us lead with a noble heart.
There is a well-known anecdote related by Tom Peters about a hospital in the US that treats cancer. During a series of staff interviews, an interviewer asked the housekeeper what her job entailed.
She responded, "I help to cure cancer." Somewhere in that hospital, a leader had connected the dots for this individual and made her feel that she was an integral part of the hospital's mission.
Everyone wants to know that what they do matters.
Everyone craves a purpose.
Being noble in leadership is not so much about what you do but how you do it.
A leader with a noble heart can give us what we all search for—a sense of purpose, meaning, and nobility.
Here are some of the ways they do it:
A Leader with a noble heart gives us a noble sense of importance. Everyone works harder when they feel they are making a difference. Noble leadership address people's desire to feel that the work we do matters, to expand and extend abilities, and to live and work intentionally.
A Leader with a noble heart gives us a noble sense of moral support. Noble leadership is not about the self, but about caring for others, supporting others, guiding others, knowing that the needs of others are met and bringing out their best.
A Leader with a noble heart gives us a noble sense of honor. A sense of honor is the link to all that matters, the thing that gives us the ability for greatness. Noble leadership is built on honor and inspires honor in others.
A Leader with a noble heart gives us a noble sense of encouragement. People are desperate to be part of something bigger than themselves. Noble leadership encourages others so they know that they matter—which, in turn, ignites a desire to do even more.
A Leader with a noble heart gives us a noble sense of visibility. When you are visible—when you are seen—you are far more motivated and likely to keep to the right direction. Noble leadership knows that the importance of visibility and that the best way to feel like a failure is not to be seen.
Leadership has the potential to become our most valuable resource; everything new that happens or doesn't happen depends on the quality of the leader. The game changer will be when we lead with a noble heart. That doesn't mean you are out there saving the world, but that you're letting each person, each individual that you encounter, know that they matter.
Lead From Within: Find ways to emulate the leader who works with a team and gives them credit for all their hard work, the boss who forgoes their own pleasures to save more for their employees, the employee who gives of their life so they can make the lives of their customers better, they are the ones that lead with a noble heart.
---
N A T I O N A L   B E S T S E L L E R
The Leadership Gap: What Gets Between You and Your Greatness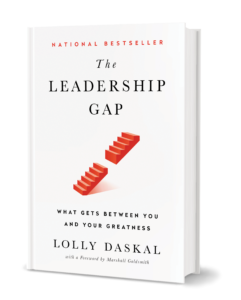 After decades of coaching powerful executives around the world, Lolly Daskal has observed that leaders rise to their positions relying on a specific set of values and traits. But in time, every executive reaches a point when their performance suffers and failure persists. Very few understand why or how to prevent it.
---
Additional Reading you might enjoy:

Photo Credit: Getty Images
---
Lolly Daskal is one of the most sought-after executive leadership coaches in the world. Her extensive cross-cultural expertise spans 14 countries, six languages and hundreds of companies. As founder and CEO of Lead From Within, her proprietary leadership program is engineered to be a catalyst for leaders who want to enhance performance and make a meaningful difference in their companies, their lives, and the world.

Of Lolly's many awards and accolades, Lolly was designated a Top-50 Leadership and Management Expert by Inc. magazine. Huffington Post honored Lolly with the title of The Most Inspiring Woman in the World. Her writing has appeared in HBR, Inc.com, Fast Company (Ask The Expert), Huffington Post, and Psychology Today, and others. Her newest book, The Leadership Gap: What Gets Between You and Your Greatness has become a national bestseller.
---