How many times have you heard yourself say If only I had the right role … the right job … the right business … the right opportunity, then I would step into my leadership.
But that role, position, opportunity, or business may never come along. So when is the right moment to start leading? That moment is now, right where you are.
If you can't start from where you want to be, how do you start from where you are?
Here are some ways to clear the path:
Develop yourself. To lead others, you must first learn to lead yourself. As human beings, our greatness lies not so much in being able to remake the world as in being able to remake ourselves. Who you are and what you learn about yourself is more powerful than where you are.
Develop alliances. Nothing great was ever done alone. To be successful you need to be able to get along with others, which means building strong relationships and deep alliances. We are all as strong as we are united and as weak as we are divided. The best leaders know the importance of alliances and do everything they can to cultivate them.
Define your worth. Everyone has a unique talent and their own way of expressing themselves; learn what yours is and it will be your worth. The best competitive advantage you have is you. Your talent determines what you can do; your motivation determines how much you do; your attitude determines how well you do it. Lead by your worth and make your mark.
Engage in constant dialogue. When dialogue is constant communication is easy, instant and effective. The most important aspect of dialogue is usually hearing what is not being said. The art of reading between the lines is a lifelong quest of great leaders because it leads to understanding, connection and mutual appreciation.
Seek out experience. Experience as much as you can. People never truly learn anything by being told; find out for yourself is much more powerful. Once you've experienced failures and successes you can begin turning those experiences into wisdom.
Invest in other people. People matter—especially when it comes to leadership. Find what is good about others and do everything you can to illuminate their work, support their development and nurture their success. Invest in other people's successes and groom them to be leaders too. When they win, you win.
You don't have to wait until you get to the top, until the right role is available, until you're in the perfect place at the perfect time. You can reach everything you need, and everything you need to accomplish, right where you are. Then when opportunity knocks (and it will) you'll be ready.
Lead From Within: Everyone has the potential to lead successfully, regardless of the positions they hold and the title they have. Be ready today by leading from right where you are and with all that you have.
---
N A T I O N A L B E S T S E L L E R
The Leadership Gap: What Gets Between You and Your Greatness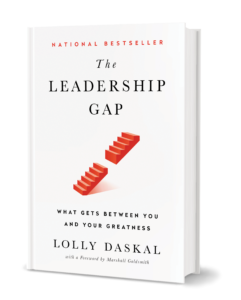 After decades of coaching powerful executives around the world, Lolly Daskal has observed that leaders rise to their positions relying on a specific set of values and traits. But in time, every executive reaches a point when their performance suffers and failure persists. Very few understand why or how to prevent it.
---
Additional Reading you might enjoy:

Photo Credit: Getty Images
---
Lolly Daskal is one of the most sought-after executive leadership coaches in the world. Her extensive cross-cultural expertise spans 14 countries, six languages and hundreds of companies. As founder and CEO of Lead From Within, her proprietary leadership program is engineered to be a catalyst for leaders who want to enhance performance and make a meaningful difference in their companies, their lives, and the world.

Of Lolly's many awards and accolades, Lolly was designated a Top-50 Leadership and Management Expert by Inc. magazine. Huffington Post honored Lolly with the title of The Most Inspiring Woman in the World. Her writing has appeared in HBR, Inc.com, Fast Company (Ask The Expert), Huffington Post, and Psychology Today, and others. Her newest book, The Leadership Gap: What Gets Between You and Your Greatness has become a national bestseller.
---