Imagine telling someone: "I'm going to be taking you on a long, dangerous, and difficult trip. There will be times you are likely to be very uncomfortable, and there may be terrible storms. I'm not going to tell you where we are going, why we are going, where we are going, or how we will get there. Just TRUST ME. "
How do you think that would make anyone feel?
In organizations, when a leader is implementing organizational change – when a boss is making major decisions that will affect employees – it doesn't work to say "just trust me."
Like frightened children, people will come up with all kinds of reasons to resist and refuse why they do not want to come along on the trip – even if it's a good one!
Most of us, do not want to take trips into the unknown and without a destination.
Telling people "just trust me" is naiveté at its worst.
It shows an enormous amount of disrespect, sometimes even dishonesty. And, maybe even delusional!
In business today, trust has to be earned. In leadership today, trust has to be gained.
Trust is  being congruent: Match your words with your actions what you say you will do you do.  Being trusted is being dependable.
Trust is embracing transparency. When it comes to trust, the more you reveal the more you can see. When trust is transparent it can be embraced.
Trust is honoring promises. Keep what you promised – and if you can go the extra mile and  honor and deliver more than you promised.
Trust is a two-way street. To make someone trustworthy, you need to trust them first. The best way to find out if you can trust somebody is to trust them.
Trust is risk.Trust lies  between faith and probability. To risk is to put yourself out of your comfort zone.Take the risk and have the faith in trust to pull you through.
Trust is a relationship. Trust begins with the self in relationship with another.  Trust others as you would wish to be trusted.
Trust is the glue when it comes to organizational change. it is a foundational element that holds us together.
  Trust your people so they can engage and be part of the change.
  Trust your people so they can enroll and add value to the change.
  Trust your people so they can embrace and understand and respect the change.
Lead from within: Any leader who says "just trust me" and expects loyalty is going to get a group of employees who resent the journey instead of enjoying the adventure. Trust  grasps another human being in their innermost core of loyalty.
---
N A T I O N A L   B E S T S E L L E R
The Leadership Gap: What Gets Between You and Your Greatness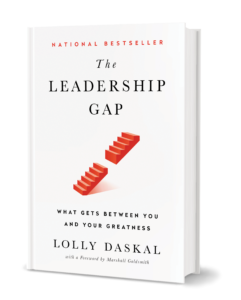 After decades of coaching powerful executives around the world, Lolly Daskal has observed that leaders rise to their positions relying on a specific set of values and traits. But in time, every executive reaches a point when their performance suffers and failure persists. Very few understand why or how to prevent it.
---
Additional Reading you might enjoy:

Photo Credit: Getty Images
---
Lolly Daskal is one of the most sought-after executive leadership coaches in the world. Her extensive cross-cultural expertise spans 14 countries, six languages and hundreds of companies. As founder and CEO of Lead From Within, her proprietary leadership program is engineered to be a catalyst for leaders who want to enhance performance and make a meaningful difference in their companies, their lives, and the world.

Of Lolly's many awards and accolades, Lolly was designated a Top-50 Leadership and Management Expert by Inc. magazine. Huffington Post honored Lolly with the title of The Most Inspiring Woman in the World. Her writing has appeared in HBR, Inc.com, Fast Company (Ask The Expert), Huffington Post, and Psychology Today, and others. Her newest book, The Leadership Gap: What Gets Between You and Your Greatness has become a national bestseller.
---