When you think of leadership, you want a wise leader who is quick on their feet and sharp in their vision and intelligent in their decisions.
But there is something that triumphs intelligence when it comes to leadership.
Because even for the quickest, smartest, best leader, if they don't have integrity all the intelligence is for naught.
As we have learned in history and in current events, high intelligence is no guarantee of good judgment, and good judgment is closer to wisdom than high intelligence is.
When we lead with integrity, our leadership is asking us to meet reality with the core of who we are—and frankly that takes courage.
Integrity trumps intelligence when the leader knows …
Brains are good but character is better.
Our work environments are designed for us to be nimble and smart, but intelligence doesn't get people to connect with you or follow you. It's your character that shines as an example. It's the leaders with a strong moral character and good old-fashioned values who stand above the rest.
Wisdom is fundamental but trust is vital.
You don't gain wisdom by thinking highly of yourself, but you can gain admiration and appreciation when you lead from trust. When you lead with trust you connect your heart to another. And where people feel caring and connection, where fear is minimized, trust can grow freely.
Cleverness is helpful but honesty is nobler.
Cleverness and intelligence may get noticed and even remembered, but when you lead with honesty you lead with a noble heart. The more honest you are with yourself and with others, the more purpose and meaning your life can hold. If your leadership is honest, everything else will follow.
An analytical mind is critical but an open mind is pivotal.
The facts, the spreadsheets, the figures are all important, but an open mind allows others to be heard and understood. Listening with an open heart is priceless beyond what any figures on a spreadsheet can measure.
Expertise is significant but humility is honorable.
Humility of heart is the first step toward both virtue and wisdom. A lack of wisdom and intelligence can be compensated with scrupulous integrity, but without humility you leave yourself no room to learn and grow.
Integrity is the most important of all the virtues.
It's a requirement for accomplishing anything of value. When you become a leader of integrity, you leadership is clearly defined and meaningful.
Integrity is the sum of who you are. Guard it, nurture it—and lead with it.
Lead From Within: Integrity is not a process or a practice, but a principle that leaders treasure when they know what matters.
---
N A T I O N A L   B E S T S E L L E R
The Leadership Gap: What Gets Between You and Your Greatness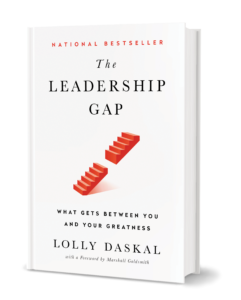 After decades of coaching powerful executives around the world, Lolly Daskal has observed that leaders rise to their positions relying on a specific set of values and traits. But in time, every executive reaches a point when their performance suffers and failure persists. Very few understand why or how to prevent it.
---
Additional Reading you might enjoy:

Photo Credit: Getty Images
---
Lolly Daskal is one of the most sought-after executive leadership coaches in the world. Her extensive cross-cultural expertise spans 14 countries, six languages and hundreds of companies. As founder and CEO of Lead From Within, her proprietary leadership program is engineered to be a catalyst for leaders who want to enhance performance and make a meaningful difference in their companies, their lives, and the world.

Of Lolly's many awards and accolades, Lolly was designated a Top-50 Leadership and Management Expert by Inc. magazine. Huffington Post honored Lolly with the title of The Most Inspiring Woman in the World. Her writing has appeared in HBR, Inc.com, Fast Company (Ask The Expert), Huffington Post, and Psychology Today, and others. Her newest book, The Leadership Gap: What Gets Between You and Your Greatness has become a national bestseller.
---