Words are important.
We use words to communicate with our friends, to conduct business, to discipline our children. Politicians use words to convince us who they are and why they are the best candidates for the job.
The average person speaks about 16,000 words a day, which comes to about 112,000 words a week—more than five million words a year.
Words are powerful tools for leadership, but they must be used well. A leader's words can inspire or hurt, cause laughter or tears, encourage or cut down.
What are the most important words a leader can say, well that depends on what they want to convey.
Here are some checkpoints:
To make deep connections. Connecting is not about how close you get, or how long you have known each other it is about understanding. The words we speak and hear bridge the gaps between people.
To be thoughtful. Think before you speak and use your words sparingly. Leading does not mean that you are required to talk more than anyone else. Quite the opposite.
To listen more than you speak. Be a leader who has a listening ear; that's how you learn.
To ask questions. The more you know the less you realize you know. For the best leaders, knowledge means having the right answer but intelligence means asking the right questions. Smart questions are the source of smart leadership.
To speak from the heart. We can be accurately judged by our words because they are an accurate reflection of what is happening within our hearts. True leaders don't let their mouth speak what their heart does not feel.
To match body language. Make certain that your words and your body language are aligned. Communication is how we make connections, and studies have shown that that people believe body language over the words.
To empower and encourage. The right words can give wings to the mind and make us feel like we can fly. Take the time to empower your people. Speak with encouragement and affirm your appreciation.
For courageous conversations. Don't be afraid of tough conversations, whether they're about performance or character. Be brave and speak the reality. Keep your focus on behaviors and keep the behaviors linked to the values of the business.
To build trust. "Speak clearly, if you speak at all; carve every word before you let it fall," said Oliver Wendell Holmes. Hold yourself accountable for your words.
To be remembered. Choose your words carefully—they are like weapons that can either be used against you or for you. Once they are said, they can be only forgiven but not forgotten.
We should watch our thoughts because they become words, and we should watch our words because they become actions, we should watch our actions because they become habits, we should watch our habits because they become character, and we should watch our character for it becomes destiny.
Lead From Within: Choose your words carefully, because a single word can change a life forever and a true leader knows that.
---
N A T I O N A L   B E S T S E L L E R
The Leadership Gap: What Gets Between You and Your Greatness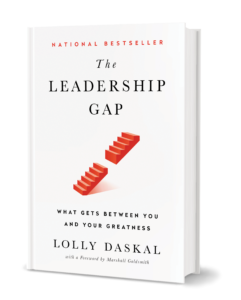 After decades of coaching powerful executives around the world, Lolly Daskal has observed that leaders rise to their positions relying on a specific set of values and traits. But in time, every executive reaches a point when their performance suffers and failure persists. Very few understand why or how to prevent it.
---
Additional Reading you might enjoy:

Photo Credit: Getty Images
---
Lolly Daskal is one of the most sought-after executive leadership coaches in the world. Her extensive cross-cultural expertise spans 14 countries, six languages and hundreds of companies. As founder and CEO of Lead From Within, her proprietary leadership program is engineered to be a catalyst for leaders who want to enhance performance and make a meaningful difference in their companies, their lives, and the world.

Of Lolly's many awards and accolades, Lolly was designated a Top-50 Leadership and Management Expert by Inc. magazine. Huffington Post honored Lolly with the title of The Most Inspiring Woman in the World. Her writing has appeared in HBR, Inc.com, Fast Company (Ask The Expert), Huffington Post, and Psychology Today, and others. Her newest book, The Leadership Gap: What Gets Between You and Your Greatness has become a national bestseller.
---