I believe that morning habits are especially important. If you want to be successful, a set of good morning rituals that you follow faithfully can make a big difference. The probability of your success may well depend on the choices you make about how to spend those critical hours before your workday gets under way.
Here are some elements of the morning habits of some of the most successful leaders, that I coach, do on a daily bases. Implement them yourself and watch your effectiveness increase.
They start strong and start early. Successful people tend to be up and going strong while the rest of the world is still asleep. However you choose to use it, find some quiet time to prepare for the day—ideally before anyone else is up so there are no distractions. How well you start your day determines how well you live your day.
They carve out time for reflection. Set aside time for journaling, reflection, reading, or meditation. Time spent on reflection is never wasted time—we spend most of the day transfixed by all the ways we can reflect ourselves out to the world, and it feeds the spirit to spend some time looking back within ourselves.
They fire up their own motivation: Motivation doesn't last forever, so plan to replenish yours regularly. Highly successful people spend time every day nurturing their motivation by listening to podcasts, watching videos, reading—anything that keeps them inspired. Motivation gets you started, and habit keeps you  going.
They burn some calories. Morning exercise is among the favorite daily rituals of successful leaders. Whether you have time for just a quick stretch, 15 minutes of cardio, or something more substantial, exercise will keep your body and mind at their best to help keep you productive and effective in the long day ahead.
They plan. If you don't take a few minutes of your morning to map out a direction for the day, how will you know if you're headed in the right direction? Every successful leader I know takes at least 10 minutes of their morning to plan and strategize. They start with what they want to accomplish that day and they allocate their time according to the importance of each task. Having a plan helps make their day more manageable and less stressful.
They ask themselves a simple question. There are many ways to make an impact, but if you truly want to leave a mark, ask yourself this simple question every day: "If today were the last day of my life, would I want to do what I'm about to do today?" Everybody wants to feel that what they do has meaning. When you ask this one question on a daily basis, you'll find yourself prioritizing your day. Asking yourself what matters most and what really needs to be done that day is a great technique for moving beyond the day-to-day to create a future.
Lead from within: A morning ritual can set the day, week, and month up for success. Don't try to count how many habits you have; just make your habits matter.
---
N A T I O N A L   B E S T S E L L E R
The Leadership Gap: What Gets Between You and Your Greatness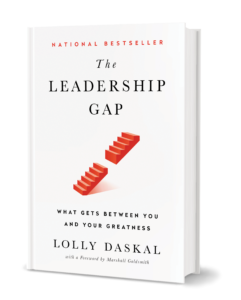 After decades of coaching powerful executives around the world, Lolly Daskal has observed that leaders rise to their positions relying on a specific set of values and traits. But in time, every executive reaches a point when their performance suffers and failure persists. Very few understand why or how to prevent it.
---
Additional Reading you might enjoy:

Photo Credit: Getty Images
---
Lolly Daskal is one of the most sought-after executive leadership coaches in the world. Her extensive cross-cultural expertise spans 14 countries, six languages and hundreds of companies. As founder and CEO of Lead From Within, her proprietary leadership program is engineered to be a catalyst for leaders who want to enhance performance and make a meaningful difference in their companies, their lives, and the world.

Of Lolly's many awards and accolades, Lolly was designated a Top-50 Leadership and Management Expert by Inc. magazine. Huffington Post honored Lolly with the title of The Most Inspiring Woman in the World. Her writing has appeared in HBR, Inc.com, Fast Company (Ask The Expert), Huffington Post, and Psychology Today, and others. Her newest book, The Leadership Gap: What Gets Between You and Your Greatness has become a national bestseller.
---