How many times have you heard it said of someone talented that they could really go places if they could learn not to let their ego get in the way?
You might be nodding and thinking Yes, I know that person. Or maybe Yes, I am that person.
How can you tell if ego is leading the way?
If you are constantly defensive.
If you are always looking for approval.
If you always have to be right.
If you are constantly comparing yourself to others.
If you have to be one up on people.
If you have to be the center of attention.
When you allow ego to lead the way, you are Edging Out Greatness.
Ego is not about power—it's about being powerless.
Ego is fear.
Ego is insecurity.
Ego is hurt.
Ego is the mask we wear to cover it all up.
The ego is not the enemy to be subdued but a compilation of unexamined habits that keep us from greatness.
So how do we focus on greatness and make it more and more the heart of our leadership?
Manage self-talk. If our inner critical voice has kept us safe for many years as our inner authority, we may end up doubting the real voice of who we're really meant to be. Don't let the self-chatter of fear and doubt get in the way. Great leaders pay attention to the things they tell themselves.
Celebrate talent. Knowing how talented we are is good; celebrating others is better. Great leaders do not aspire to reach their own greatness by keeping others down. They realize the more they surround themselves with talent and strong people, the more successful everyone will be.
Stop perfectionism. The belief that perfect is good and imperfect is bad is misguided. Trying to be perfect keeps us from being our best self. Great leaders know that the best lessons always happen in imperfect moments. Let them happen.
Admit mistakes. To distinguish ourselves from others we need to be on the right side of mistakes. When we mask our mistakes, when we think we have to be right, we are masking our insecurities. When we admit our mistakes and amend them, we allow others to see us for who we are. Great leaders lead with authenticity and learn from mistakes.
Demonstrate empathy. Empathy is a powerful thing—simply listening and withholding judgment. It's about making a connection. When we demonstrate empathy toward ourselves, we learn how to be empathetic towards others.
Practice humility. Check yourself—not everything is about you. True humility is not thinking less of yourself; it is thinking of yourself less. Remember, leadership is about serving others instead of being served.
Stop the comparisons. Stop constantly assessing and comparing yourself to others.Great leaders know that who they are is good enough—that they are great just as they are.
The greater the leader, the greater the doubt—perfect confidence is granted to the less talented as a consolation prize. Let the admission of your realities not change how brave you are, but reinforce how great you can be.
Lead From Within: Living our greatness is at the core of who we are, the center of our meaningful experience. When we lead with ego it can either be about edging greatness out or expanding greatness outwardly. We know what matters, but we have to choose what matters more.
---
N A T I O N A L   B E S T S E L L E R
The Leadership Gap: What Gets Between You and Your Greatness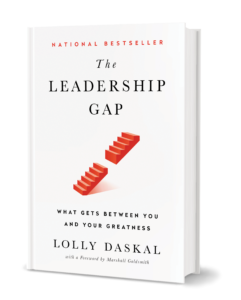 After decades of coaching powerful executives around the world, Lolly Daskal has observed that leaders rise to their positions relying on a specific set of values and traits. But in time, every executive reaches a point when their performance suffers and failure persists. Very few understand why or how to prevent it.
---
Additional Reading you might enjoy:

Photo Credit: Getty Images
---
Lolly Daskal is one of the most sought-after executive leadership coaches in the world. Her extensive cross-cultural expertise spans 14 countries, six languages and hundreds of companies. As founder and CEO of Lead From Within, her proprietary leadership program is engineered to be a catalyst for leaders who want to enhance performance and make a meaningful difference in their companies, their lives, and the world.

Of Lolly's many awards and accolades, Lolly was designated a Top-50 Leadership and Management Expert by Inc. magazine. Huffington Post honored Lolly with the title of The Most Inspiring Woman in the World. Her writing has appeared in HBR, Inc.com, Fast Company (Ask The Expert), Huffington Post, and Psychology Today, and others. Her newest book, The Leadership Gap: What Gets Between You and Your Greatness has become a national bestseller.
---