For those of us who lead, traits like self-awareness and self-control should be a natural part of our emotional intelligence. But we might not know ourselves as well as we think we do, we might have blind spots that are plaguing our leadership and we don't even know it.
Imagine someone in a coaching session. Asked to describe themselves, and they give a list of positive traits: hard-working, caring for others, sensitive, with a passion for order, excellence, and doing great work.
Now they are asked a new question: What do you think your co-workers would say about you? About the same, they replies.
They are stunned to learn that some of their peers and colleagues have issues with their leadership.
What they see as working hard, others see as thinking, no one is good enough to delegate to, and they alone are the only one who get the job done, right.
What they see as caring for others, others see as a disrespectful inattention to boundaries, not asking enough questions before telling people what they need to do.
What they consider sensitivity might come across to others as emotional distance.
Sometimes we have a huge blind spot when it comes to ourselves.
And this blindness to our own character leads us to imperfect choices and conclusions.
In this case, intense questioning about beliefs and triggers opened up the belief that, on a deep subconscious level, this leader didn't feel worthy of his position.
So even though on the conscious level he believed he was acting positively, his subconscious anger and insecurity were leading him in ways that kept him from engaging with his team. His unconscious mind was driving all his actions, and everyone could see it except him.
Sometimes we have to rethink what we think we know about ourselves, acknowledge the possibility that we don't know ourselves as well as we think we do.
Most of us we think we are okay, even when our encounters and relationships give us evidence to the contrary. Our conscious mind selects, evaluates, and interprets information that confirms what we wish to believe.
To really know ourselves, we have to see ourselves through the eyes of others.
We have to be willing to open up the things that we successfully hide from ourselves, and overcome the resistance to dig deep into our inner life.
Just as we lead others with heart, we have to observe ourselves and the reactions that others have to us not with with heart:
Listen to the feedback you get from others.
Ask yourself courageous questions.
Observe the ways your conscious mind sabotages your own self-awareness.
And, most importantly, don't assume that you are immune from the influence of inner demons.
Lead From Within: As heart-based leaders we must bring our unconscious stories to our conscious narrative if we are to avoid being a leader who has blindspots.
---
N A T I O N A L   B E S T S E L L E R
The Leadership Gap: What Gets Between You and Your Greatness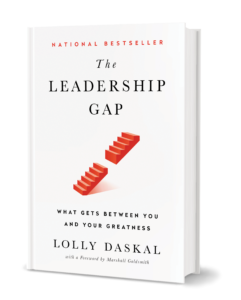 After decades of coaching powerful executives around the world, Lolly Daskal has observed that leaders rise to their positions relying on a specific set of values and traits. But in time, every executive reaches a point when their performance suffers and failure persists. Very few understand why or how to prevent it.
---
Additional Reading you might enjoy:

Photo Credit: Getty Images
---
Lolly Daskal is one of the most sought-after executive leadership coaches in the world. Her extensive cross-cultural expertise spans 14 countries, six languages and hundreds of companies. As founder and CEO of Lead From Within, her proprietary leadership program is engineered to be a catalyst for leaders who want to enhance performance and make a meaningful difference in their companies, their lives, and the world.

Of Lolly's many awards and accolades, Lolly was designated a Top-50 Leadership and Management Expert by Inc. magazine. Huffington Post honored Lolly with the title of The Most Inspiring Woman in the World. Her writing has appeared in HBR, Inc.com, Fast Company (Ask The Expert), Huffington Post, and Psychology Today, and others. Her newest book, The Leadership Gap: What Gets Between You and Your Greatness has become a national bestseller.
---