There are lots of ways to lead and lots of contexts for showing leadership. Leadership is as individual as the people who practice it; it doesn't depend on your age, sex, education, or culture.
But there's one thing that all true leaders share: The best Leaders are honest and that honesty begins with, and about, themselves. They understand who they are and who they are not.
It takes an honest heart to be truthful, and it takes an open mind to be straightforward.
Honesty is more complex than just not lying—it's a commitment to knowing and understanding the truth, speaking the truth, and leading from the truth.
To be an honest leader takes strength and courage. Here's how to make sure your own leadership reflects your personal honesty:
Look within. The best leaders don't strive for perfection but for growth and progress. By being truthful with yourself, you have a realistic sense of where you are and where you want to be. Then share that same perspective with those around you.
Be sincerely responsible. Hold yourself responsible and accountable for who you are and what you do. Don't allow yourself to be careless with the truth, even in small matters. That way you can know (and demonstrate) that you are worthy to be trusted in the big matters.
Be led by your values. To gain a reputation of being authentic and honest, always lead with your values. When you do, people understand that your words have meaning and integrity.
Honesty is the cornerstone of your leadership. Tend to it carefully, because respect is earned. Trust is gained. Loyalty is returned and honesty is essential.
Lead From Within: Honest leaders are memorable. They keep check on themselves, demonstrate sincerity, lead by their values, and are ruled by their principles.
---
N A T I O N A L   B E S T S E L L E R
The Leadership Gap: What Gets Between You and Your Greatness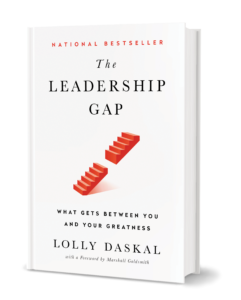 After decades of coaching powerful executives around the world, Lolly Daskal has observed that leaders rise to their positions relying on a specific set of values and traits. But in time, every executive reaches a point when their performance suffers and failure persists. Very few understand why or how to prevent it.
---
Additional Reading you might enjoy:

Photo Credit: Getty Images
---
Lolly Daskal is one of the most sought-after executive leadership coaches in the world. Her extensive cross-cultural expertise spans 14 countries, six languages and hundreds of companies. As founder and CEO of Lead From Within, her proprietary leadership program is engineered to be a catalyst for leaders who want to enhance performance and make a meaningful difference in their companies, their lives, and the world.

Of Lolly's many awards and accolades, Lolly was designated a Top-50 Leadership and Management Expert by Inc. magazine. Huffington Post honored Lolly with the title of The Most Inspiring Woman in the World. Her writing has appeared in HBR, Inc.com, Fast Company (Ask The Expert), Huffington Post, and Psychology Today, and others. Her newest book, The Leadership Gap: What Gets Between You and Your Greatness has become a national bestseller.
---