There is a story of a farmer who used an old horse to till his fields.
One day, the horse escaped into the hills. When the farmer's neighbors sympathized with the old man over his bad luck, the farmer replied, "Bad luck? Good luck? Who knows?"
A week later, the horse returned with a herd of horses from the hills. This time the neighbors congratulated the farmer on his good luck. His reply was "Good luck? Bad luck? Who knows?"
Then when the farmer's son was attempting to tame one of the wild horses, he fell off its back and broke his leg. Everyone thought this was very bad luck. The farmer's reaction: "Bad luck? Good luck? Who knows?"
Some weeks later, the army marched into the village and conscripted every able-bodied youth they found there. When they saw the farmer's son with his broken leg, they let him off.
Was that Good luck or Bad luck? Who knows!
Great leaders understand that even though they have all that it takes to be a top-notch leader, they don't have all the answers.
A leader who always knows the way usually shows the way—but when they don't know, they allow themselves permission to face the times of "Who knows?"
Who knows? Remain calm. Great leaders stay calm and refuse to become agitated when things seem to fall apart. They trust in their abilities to pull them through.
Who knows? Trust your abilities. Great leaders have handled crises before, and they have the inner assurance that their capabilities and abilities will pull them through again.
Who knows? Take action. Great leaders don't become paralyzed by events that don't turn out exactly as imagined. They make plans and they take specific action to move forward.
Who knows? Invite acceptance. Great leaders accept the idea that in chaos there is order, and that sometimes you have to work with what you've got, accept what happens, and move on.
Who knows? Don't compromise. Great leaders don't compromise on their integrity. They know that to compromise is to go a little below what they know it is right. When they put integrity first they know they can keep respect.
Who knows? Foster agility. Great leaders know how to respond to change with flexibility and not rigidity. Change and adversity are inevitable; those who are busy worrying about the past or distracted by the present are most certain to miss out on the future.
When it appears there are more questions than answers, more trouble than solutions, more failures than successes, more bad then good, to lead with greatness is to sometimes say, "Who knows!"
Lead From Within:  When everything seems to be bad luck– it may just be good luck in disguise— and when not everything has an answer, and not everything can be figured out—that is when true leadership emerges.
---
N A T I O N A L   B E S T S E L L E R
The Leadership Gap: What Gets Between You and Your Greatness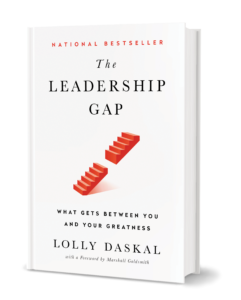 After decades of coaching powerful executives around the world, Lolly Daskal has observed that leaders rise to their positions relying on a specific set of values and traits. But in time, every executive reaches a point when their performance suffers and failure persists. Very few understand why or how to prevent it.
---
Additional Reading you might enjoy:

Photo Credit: Getty Images
---
Lolly Daskal is one of the most sought-after executive leadership coaches in the world. Her extensive cross-cultural expertise spans 14 countries, six languages and hundreds of companies. As founder and CEO of Lead From Within, her proprietary leadership program is engineered to be a catalyst for leaders who want to enhance performance and make a meaningful difference in their companies, their lives, and the world.

Of Lolly's many awards and accolades, Lolly was designated a Top-50 Leadership and Management Expert by Inc. magazine. Huffington Post honored Lolly with the title of The Most Inspiring Woman in the World. Her writing has appeared in HBR, Inc.com, Fast Company (Ask The Expert), Huffington Post, and Psychology Today, and others. Her newest book, The Leadership Gap: What Gets Between You and Your Greatness has become a national bestseller.
---