One of the clients I coach—an important leader in his industry—was extremely distraught and agitated about the future of his company.
I allowed him some space to vent and rant, and then I reminded him how great leaders look at the future, how they create vision and values and culture, and how they create targets based on where they're going.
But when times are tough, I told him, great leaders are handed a gift.
The gift of being present.
The uncertainty of his current situation meant he could actually take the time to slow down and pay more attention to the present moment and the things he needed to do—helping him make better decisions that would, in turn, have a good effect on his future.
Being present in the moment does not mean we act without direction in the future.
The gift of being present requires intention and practice to carry out new action.
To think, to feel, to impact, we first must be.
Be a Witness: Sometime life is overshadowed by challenging events of our lives. Pause and pay deep attention to what is happening in the given moment.
Focus: Do not allow your thoughts to stray, but instead learn to focus completely on what you are feeling in the moment. Concentrate on getting things done one thing at a time.
Stay Calm:  It can be hard in stressful times, but try to remain calm through the storm. Things might feel overwhelming but know this feeling passes.
Do Better: Take the time to make things better by being reflective and responsive instead of reactive and resentful.
Zoom In: Block all the noise out and zoom in on who you are being. Being present awards you the gift of feeling.
Don't Do It Alone : The worst thing you can do is think you are alone in this world. Get help, hire a coach, speak to a trusted advisor, invite others to join you on making every moment of today matter.
Often when times are challenging we spend our time thinking about the past or the future.
There's no magic pill to make the economy turn around, to make business be more lucrative, to bring back customers or valuable employees who are gone.
Being present is not an idea, a mood, a thought: It's an awareness that is rich with heart and learning.
Lead From Within:  As a heart-based leader, reduce life's challenges by going deeper within yourself to receive the gifts of being present.
---
N A T I O N A L   B E S T S E L L E R
The Leadership Gap: What Gets Between You and Your Greatness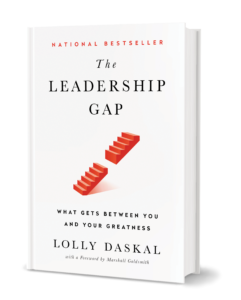 After decades of coaching powerful executives around the world, Lolly Daskal has observed that leaders rise to their positions relying on a specific set of values and traits. But in time, every executive reaches a point when their performance suffers and failure persists. Very few understand why or how to prevent it.
---
Additional Reading you might enjoy:

Photo Credit: Getty Images
---
Lolly Daskal is one of the most sought-after executive leadership coaches in the world. Her extensive cross-cultural expertise spans 14 countries, six languages and hundreds of companies. As founder and CEO of Lead From Within, her proprietary leadership program is engineered to be a catalyst for leaders who want to enhance performance and make a meaningful difference in their companies, their lives, and the world.

Of Lolly's many awards and accolades, Lolly was designated a Top-50 Leadership and Management Expert by Inc. magazine. Huffington Post honored Lolly with the title of The Most Inspiring Woman in the World. Her writing has appeared in HBR, Inc.com, Fast Company (Ask The Expert), Huffington Post, and Psychology Today, and others. Her newest book, The Leadership Gap: What Gets Between You and Your Greatness has become a national bestseller.
---