Two frogs were playing together when suddenly they fell together into a bucket of cream.
One frog quickly realized he didn't have any way to gain his footing to get out, so shortly afterwards he accepted his fate and slipped under the surface and drowned.
Horrified, the second frog watched his friend give up and die.
But he was determined not to go himself without putting up a fight. He wasn't sure of the best thing to do, so he just thrashed around, doing whatever he could to keep himself afloat. In time, he began to notice that the cream was growing thicker. He kept kicking, and after a while he discovered that the cream had turned to butter and he could easily hop out.
Here's the thing to remember: What happens within us is at least as important as what happens to us.
We all face challenges—that's a given, in leadership, work and in life. It's how we choose to respond that makes all the difference. And that can be tough to figure out, especially when things are difficult.
But if we don't want to drown we have to focus on the action we can take.
Here are some helpful thoughts to help the next time you need to churn the cream into butter:
Focus on the route, not the destination. Most of the time, you can't know what the outcome will be. And that's OK. Even the worst possibilities are seldom as dire as drowning in a bucket. Stumbles and failure are part of success, so take your focus off the results you fear and concentrate on your best path forward.
Focus on what you have, not what you lack. Faced with a challenge, it's easy to focus on what you're missing. But there's no better moment to take stock of who you are and what you have—within you and around you.
Focus on what you can do, and not what you can't. It's always going to be easier to give up rather than to fight. But it means you'll never move ahead. Put up a good fight and keep it up until the end.
Focus on containing the challenge and not drowning in the drama.  We all know someone who seems to magnify every problem they encounter. Don't be that person. If there's drama, walk away. If there's discord and blaming, don't participate. Keep your focus on solving the problem at hand.
Focus on trusting yourself and not wavering within. Don't allow anyone else to make decisions for you.  Remember, part of leadership is coming up with new ways of doing old things. Be the person who shows their leadership in times of challenge.
Challenges are tough and frightening. But, with the right focus, it can help you build a stronger version of yourself.
Lead from Within. When facing a difficult challenge we must focus on the things we can do something about—because struggling with challenges is a natural part of growing, developing, and leading.
---
N A T I O N A L   B E S T S E L L E R
The Leadership Gap: What Gets Between You and Your Greatness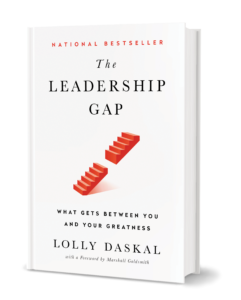 After decades of coaching powerful executives around the world, Lolly Daskal has observed that leaders rise to their positions relying on a specific set of values and traits. But in time, every executive reaches a point when their performance suffers and failure persists. Very few understand why or how to prevent it.
---
Additional Reading you might enjoy:

Photo Credit: Getty Images
---
Lolly Daskal is one of the most sought-after executive leadership coaches in the world. Her extensive cross-cultural expertise spans 14 countries, six languages and hundreds of companies. As founder and CEO of Lead From Within, her proprietary leadership program is engineered to be a catalyst for leaders who want to enhance performance and make a meaningful difference in their companies, their lives, and the world.

Of Lolly's many awards and accolades, Lolly was designated a Top-50 Leadership and Management Expert by Inc. magazine. Huffington Post honored Lolly with the title of The Most Inspiring Woman in the World. Her writing has appeared in HBR, Inc.com, Fast Company (Ask The Expert), Huffington Post, and Psychology Today, and others. Her newest book, The Leadership Gap: What Gets Between You and Your Greatness has become a national bestseller.
---