In recent months I've talked at different times with two leaders, each facing the loss of his job because of a corporate merger or acquisition. Although their situations were the same, their responses could not have been more different.
One was having a terrible time, to the point that he had even considering killing himself.
The other was excitedly planning what to do next to create a new way to be successful.
It led me to wonder: What were the variables that led to such widely different responses?
The first leader—the one who was struggling—had up to this point lived a charmed life. A perfect childhood in a loving, stable home, the best schools, graduation from a top college followed by a great job obtained with his father's assistance. He had married his college sweetheart and they had a beautiful family—adorable twins, a boy and girl—with a fantastic home and even a luxury vacation home.
The second leader came from a very different background. His parents had been divorced, and his childhood was often lonely. Money was scarce and he always had an after-school job. After graduation his only option for continuing his education was a city college, where he continued to work nights to put himself through. After graduation he got a good entry-level job and made his way quickly up the ladder through hard work and dedication, eventually becoming global leader of his business unit. He married a woman he had met at a soup kitchen, and they had two wonderful sons.
And there, in their stories, I saw the difference.
It was about experiencing struggle and challenge, and coping and learning from them.
Struggle, failure, pain, adversity—they are all our teachers.
Each time we take a risk and it fails we have another opportunity to begin again.
Each time we face a difficulty we can stand up and try again.
Each time we plan and fail and try again, we are building inner resources.
Failure gives us the competitive advantage, it opens the door unto everything we need to know.
And as far as I can see, the door into one's own strength, including perhaps the most precious gift, of all, our own real self.
Lead From Within:  Heart-based leaders have a whole library of inner resources they can tap into and bounce back and move forward with success and strength.
---
N A T I O N A L   B E S T S E L L E R
The Leadership Gap: What Gets Between You and Your Greatness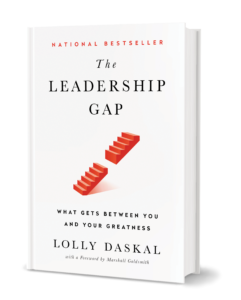 After decades of coaching powerful executives around the world, Lolly Daskal has observed that leaders rise to their positions relying on a specific set of values and traits. But in time, every executive reaches a point when their performance suffers and failure persists. Very few understand why or how to prevent it.
---
Additional Reading you might enjoy:

Photo Credit: Getty Images
---
Lolly Daskal is one of the most sought-after executive leadership coaches in the world. Her extensive cross-cultural expertise spans 14 countries, six languages and hundreds of companies. As founder and CEO of Lead From Within, her proprietary leadership program is engineered to be a catalyst for leaders who want to enhance performance and make a meaningful difference in their companies, their lives, and the world.

Of Lolly's many awards and accolades, Lolly was designated a Top-50 Leadership and Management Expert by Inc. magazine. Huffington Post honored Lolly with the title of The Most Inspiring Woman in the World. Her writing has appeared in HBR, Inc.com, Fast Company (Ask The Expert), Huffington Post, and Psychology Today, and others. Her newest book, The Leadership Gap: What Gets Between You and Your Greatness has become a national bestseller.
---