Effective leadership can be thought of as a set of qualities and skills. Different leaders may have different makeups, different strengths and challenges. But there are certain traits that lie at the core of leadership–the qualities that all great leaders share.
Developing the elements that make up leadership is a lifelong process. Start with these fundamentals and, as you grow into your personal leadership style, add others that fit. Then check in from time to time and see how well you're progressing in each area so you can make a plan to keep growing and improving.
Here are 16 traits and skills that are central to great leadership:
1.    Clarity of purpose.
The best leaders have to show all those they lead how their decisions align with the organization's vision, goals, targets and ethics. Success demands singleness of purpose, and great leaders not only pursue it themselves but empower others to do the same.
2.    Define tasks.
Express what needs to be done with clarity and coherence. Once tasks are defined, give autonomy to the talented people you've hired and trust that the job can be done. The worst thing a leader can do is to micromanage the talented people they have hired. Allow people to do their job and excel at it.
3.    Focus on goals and getting results.
Understand the vision of the business or project and keep it at the forefront at all times. As a leader, you need to stay focused, prioritize and keep moving toward your goals. Commit everything you do to excellence.
4. Act decisively.
Decisive leadership avoids stagnation and vacillation. Know how to keep everyone moving forward on task with motivation and inspiration while also being responsible and adaptable to change and new information.
5. Display confidence.
The best leaders–the ones people truly respect–know how to lead with confidence. They take on new challenges while showing others that they're not afraid of new roles or projects.
6.  Have a positive mental attitude.
A positive attitude gives you power over your circumstances instead of the other way around. Being a leader can be tough, and a positive attitude causes a chain reaction of positive thoughts and events. It's a catalyst that fuels extraordinary outcomes. The best leaders know how to control how they feel and think. They understand that negativity exists within each of us but it's our choice whether to foster it or not.
7.    Are solution oriented.
Every business, market and industry comes with its own set of problems and challenges. The best leaders are focused on solutions. They don't get caught up on the details or blame others. When things don't work out, they concentrate on the task at hand and do what is required to keep moving forward.
8.    Demonstrate accountability.
With great power comes great responsibility. The best leaders understand that there will always be failures and mistakes, and they take full responsibility for theirs and their team's. The moment you take responsibility for everything is the moment you can change anything.
9.  Invite genuine feedback.
People need to be able to speak up and let their leaders know what they think. The best leaders don't belittle those who disagree with them; they understand the importance of engagement, of speaking up and making a contribution.
10.    Cultivate humility.
Being a humble leader doesn't mean you should hide your accomplishments. Humility is simply a willingness to be human, to admit to your inevitable mistakes and failings and encourage others to do the same.
11.    Employ effective communication.
When a leader is open and transparent in their alignment with company's values, it ensures that communication–whether it's upward to senior management or down the hierarchy to managed employees–is always consistent and without contradiction.
12.    Take risks.
Great leaders don't allow their fear of consequences to prevent them from following their deepest instincts. They know creativity is about inventing, experimenting, growing, making mistakes and leading others forward.
13.    Are willing to broadcast praise.
It's important to demonstrate that you care about your team and their success as a group. When employees perform well, recognize and acknowledge their achievements. Announce these achievements to the rest of the team, to senior management and, if possible, to your clients or customers, offering opportunities for positive reinforcement and role modeling.
14.    Engage in active listening.
Most leaders love to hear themselves speak, but great leaders show respect for others by paying attention to the person talking. They listen actively by restating information, and they offer subtle encouragement by nodding, smiling or leaning in to prompt the person talking to continue and elaborate on their ideas.
15.    Motivate others.
To motivate people, you have to engage them–not only their minds but also their hearts. Great leaders know that success isn't just about what you accomplish in your life, it's about what you inspire others to do.
16.    Are constantly role modeling.
Great leaders are great role models. They understand that if they want to achieve greatness, they have to first seek it in themselves and then set the example through the things they say and do–and when their words and deeds are aligned, others will want to emulate them.
Leadership, at its best, is about relationships, teams, partnerships and motivating people to contribute. Cultivate creativity and excellence. Listen; seek new ideas and advice. That is the essence of great leadership.
---
N A T I O N A L   B E S T S E L L E R
The Leadership Gap: What Gets Between You and Your Greatness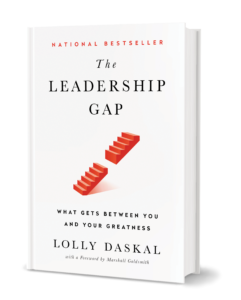 After decades of coaching powerful executives around the world, Lolly Daskal has observed that leaders rise to their positions relying on a specific set of values and traits. But in time, every executive reaches a point when their performance suffers and failure persists. Very few understand why or how to prevent it.
---
Additional Reading you might enjoy:

Photo Credit: Getty Images
---
Lolly Daskal is one of the most sought-after executive leadership coaches in the world. Her extensive cross-cultural expertise spans 14 countries, six languages and hundreds of companies. As founder and CEO of Lead From Within, her proprietary leadership program is engineered to be a catalyst for leaders who want to enhance performance and make a meaningful difference in their companies, their lives, and the world.

Of Lolly's many awards and accolades, Lolly was designated a Top-50 Leadership and Management Expert by Inc. magazine. Huffington Post honored Lolly with the title of The Most Inspiring Woman in the World. Her writing has appeared in HBR, Inc.com, Fast Company (Ask The Expert), Huffington Post, and Psychology Today, and others. Her newest book, The Leadership Gap: What Gets Between You and Your Greatness has become a national bestseller.
---