What's your first reaction when you confront a problem?
Do you….
Identify it
define it
examine it
analyze it
seek solutions?
I want to ask you to try something NEW.
As a leader you are used to solving problems, I am to suggest don't solve your biggest problems.
Recently, while conducting a workshop, I sat at a table with a group of intelligent leaders who were tackling a problem. As the trainer, it was my job to keep the group engaged in critical and strategic thinking.
But this group was stuck—stuck in their ideas, discussion, dialogue, and conversation. We were approaching the 45-minute mark, and they were just going around in circles.
I said, "Everyone, let's stop this discussion. We're taking a break. Put down your pens, leave your phones, and let's get out of here."
I had prepared by bringing some sports equipment. Excited as kids at a chance to play outside, they were quickly caught up in a rousing game of wiffle ball.
By the time I called them back in a short time later, everyone was relaxed and enjoying themselves. Even before they had a chance to sit down, I asked, "How do we tackle this issue? What do we do next?"
And it all came together. They had a direction, and they were all in agreement.
This is not news for anyone who has done coaching or consulting with teams. Taking a break is good science.
[quote]People who have been distracted perform better on a complex problem-solving task than those who put in nonstop conscious effort.[/quote]
So the next time you have a thorny problem:
Don't tackle it.
Don't keep identifying it.
Don't examine it to death.
Don't keep coming up with strategies.
Don't keep gathering information.
Take a break and allow your mind to rest. Find something to do. Distract yourself.
When you come back you will see your problems and issues with fresh eyes. In just a few minutes, you can reach new breakthroughs, new reactions, new ways of looking at things. Allow your conscious mind to relax and you will find a better, faster, smarter way to approach your problem.
Now imagine the increase in problem solving that could occur if your team, or your whole organization, started to apply this principle.
There are so many things we have misunderstood about the mind.
As someone who believes in leading from within, I am a big advocate of letting the mind rest and allowing the heart to speak.
And as someone who is always looking for insight, I suspect that letting go of what we know—of our need to always be solving, analyzing, defining—can lead us to new identifications, new solutions, and new meaning.  
Lets give our minds a break and let our hearts speak with fortitude.
Lead from within: The next time you are up against a problem you can't solve, the next time you feel stuck, let it go and distract yourself.
---
N A T I O N A L   B E S T S E L L E R
The Leadership Gap: What Gets Between You and Your Greatness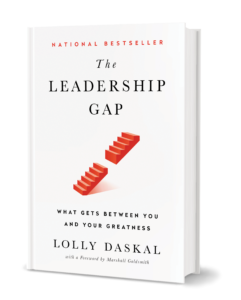 After decades of coaching powerful executives around the world, Lolly Daskal has observed that leaders rise to their positions relying on a specific set of values and traits. But in time, every executive reaches a point when their performance suffers and failure persists. Very few understand why or how to prevent it.
---
Additional Reading you might enjoy:

Photo Credit: Getty Images
---
Lolly Daskal is one of the most sought-after executive leadership coaches in the world. Her extensive cross-cultural expertise spans 14 countries, six languages and hundreds of companies. As founder and CEO of Lead From Within, her proprietary leadership program is engineered to be a catalyst for leaders who want to enhance performance and make a meaningful difference in their companies, their lives, and the world.

Of Lolly's many awards and accolades, Lolly was designated a Top-50 Leadership and Management Expert by Inc. magazine. Huffington Post honored Lolly with the title of The Most Inspiring Woman in the World. Her writing has appeared in HBR, Inc.com, Fast Company (Ask The Expert), Huffington Post, and Psychology Today, and others. Her newest book, The Leadership Gap: What Gets Between You and Your Greatness has become a national bestseller.
---