Most servant leaders pride themselves on being leaders who—well, serve. And most do.
They serve people with compassion, empathy, listening, and healing.
Richard is an excellent leader and a smart man. I've been coaching him for years. but recently he told me he felt he was failing as a leader.
I was seriously shocked to hear him say this, because I know him, and as a leader he is one of those people you automatically admire.
So why would a great man and an even better leader feel like he was failing?
As he spoke, I realized that his dilemma lay in the fact that most of us have made leadership into something that is unreachable and unattainable, something that's bigger than us.
As a result, we have potentially great leaders who have paralyzed themselves with worry that their leadership will never do well.
We've made leadership about changing the world. We've taken the title of leader and we treat it as if it's something that one day we're going to live up to, and on that day we'll finally be able to call ourselves a leader.
And I worry sometimes that we spend so much time celebrating amazing things—things that hardly anybody can do—that we've convinced ourselves that those are the only things worth celebrating, and in so doing we devalue the things we can do every day.
Richard is and will always be a servant leader, a man who leads from within. The people who interact with him every day can vouch for that.
But he is also human.
Sometimes he cannot be there the way he wants to be. That fact of life was causing him to feel less successful as a servant leader, when in truth he is the best kind: an imperfect person with a perfect giving heart.
With the right attitudes and actions, the rest of us imperfect humans can also be effective servant leaders.
Here's how:
Lead from within. If you are driven to serve others and you make a conscious choice to lead from who you are, with your passion, your perseverance and your sensitive heart, you are a servant leader.
Know how to listen. Practice and value the art of listening, and remember that listening is one the most sincere forms of respect you can give someone. When you truly listen—listen to understand, not to set up your own speaking points—you are expressing that you care. When you can show up with a listening heart, you are a servant leader.
Embrace empathy. When you understand that empathy means seeing with the eyes of another, listening with the ears of another, and feeling with the heart of another, you are a servant leader.
Inspire and motivate. Servant leaders inspire motivation. They can rally the troops in crisis, they can bring together people in difficult times, and they can make people feel important and valued. When you can speak to others knowing that everyone is afraid of something, everyone loves something and everyone has lost something, you are a servant leader.
Be aware. A deep level of self-awareness allows us to relate our unique gifts and talents to this new economy, our complex world, and the ways in which we can help others. Self-awareness builds strength. But making a commitment to grow in awareness can be frightening, because sometimes we uncover our own imperfections. If you can accept who you are in that imperfection and remain aware of yourself, you are a servant leader.
Have vision. Leadership is the capacity to translate vision into reality. Leaders create a vision; they passionately own it, they articulate it and they relentlessly drive it into being. People buy into a leader before they buy into the vision. When you have a vision that people care about, when you uplift that vision and the performance of those who support it to a higher standard, you are a servant leader.
Commit to the growth of people. Encourage those around you to grow; make it safe for people to take risks and make mistakes. Servant-leaders believe that people have an intrinsic value beyond their tangible contributions as workers. If you're deeply committed to the personal, professional and spiritual growth of every individual within the organization, you are a servant leader.
Build communities. Leadership is about building a sense of community. Servant-leaders seek to identify a means for building community so they can overcome isolation and actively move toward a congregation of brotherhood and sisterhood, a company—in every sense of the word—where people feel safe and cared for. If you do this, you are a servant leader.
In large and small ways, servant leaders listen, empathize, inspire, elevate, and foster individual and community growth. They bring people together to accomplish something meaningful and compelling.
Richard's dilemma was centered in the belief that he couldn't be human. But it is the sheer acceptance of our humanity that makes us great leaders.
Lead From Within: Think about the leaders you know—the ones you admire, the ones who serve. Find a way to let them know that any imperfections make them, in fact, perfect servant leaders.
---
N A T I O N A L B E S T S E L L E R
The Leadership Gap: What Gets Between You and Your Greatness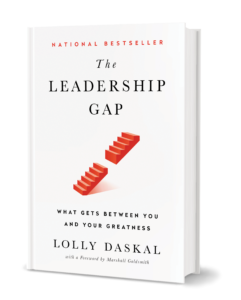 After decades of coaching powerful executives around the world, Lolly Daskal has observed that leaders rise to their positions relying on a specific set of values and traits. But in time, every executive reaches a point when their performance suffers and failure persists. Very few understand why or how to prevent it.
---
Additional Reading you might enjoy:

Photo Credit: Getty Images
---
Lolly Daskal is one of the most sought-after executive leadership coaches in the world. Her extensive cross-cultural expertise spans 14 countries, six languages and hundreds of companies. As founder and CEO of Lead From Within, her proprietary leadership program is engineered to be a catalyst for leaders who want to enhance performance and make a meaningful difference in their companies, their lives, and the world.

Of Lolly's many awards and accolades, Lolly was designated a Top-50 Leadership and Management Expert by Inc. magazine. Huffington Post honored Lolly with the title of The Most Inspiring Woman in the World. Her writing has appeared in HBR, Inc.com, Fast Company (Ask The Expert), Huffington Post, and Psychology Today, and others. Her newest book, The Leadership Gap: What Gets Between You and Your Greatness has become a national bestseller.
---