There is a big difference between a leader and manager. 
Both roles are important but they seek to do different things…
Leaders lead people.
Managers manage people.
Leaders set destinations.
Managers navigate the roads to get there.
Leaders cultivate change.
Managers cultivate creating stability.
Leaders inspire.
Managers comfort.
Leaders appeals to the heart.
Managers appeal to the head.
Leaders set direction.
Managers set plans with details.
Leaders work on a system.
Managers are working the system.
Leaders have vision.
Managers are about reaching goals.
Leaders are about effectiveness.
Managers are about efficiency.
Leaders have followers.
Managers have subordinates.
Leaders take ownership.
Managers take responsibility.
Leaders shape culture.
Managers enact culture.
Leaders are proactive.
Managers are reactive.
Leaders accomplish achievements.
Managers accomplish compliance.
Leaders break rules.
Managers make rules.
Leaders use conflict.
Managers avoid conflict.
Leaders set new direction.
Managers go on the existing roads.
Leaders go inward.
Managers work outward.
Leaders are concerned what is right.
Managers are concerned about being right.
As you can see managers and leaders are two different people.
Do organizations need both? YES.
Leadership begins where management ends and smart organizations value both and great organizations work hard to make each a part of their team.
---
N A T I O N A L   B E S T S E L L E R
The Leadership Gap: What Gets Between You and Your Greatness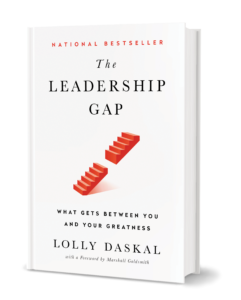 After decades of coaching powerful executives around the world, Lolly Daskal has observed that leaders rise to their positions relying on a specific set of values and traits. But in time, every executive reaches a point when their performance suffers and failure persists. Very few understand why or how to prevent it.
---
Additional Reading you might enjoy:

Photo Credit: Getty Images
---
Lolly Daskal is one of the most sought-after executive leadership coaches in the world. Her extensive cross-cultural expertise spans 14 countries, six languages and hundreds of companies. As founder and CEO of Lead From Within, her proprietary leadership program is engineered to be a catalyst for leaders who want to enhance performance and make a meaningful difference in their companies, their lives, and the world.

Of Lolly's many awards and accolades, Lolly was designated a Top-50 Leadership and Management Expert by Inc. magazine. Huffington Post honored Lolly with the title of The Most Inspiring Woman in the World. Her writing has appeared in HBR, Inc.com, Fast Company (Ask The Expert), Huffington Post, and Psychology Today, and others. Her newest book, The Leadership Gap: What Gets Between You and Your Greatness has become a national bestseller.
---