In the words of Napoleon Hill, it is not what you are going to do but what you are doing today that counts.
You can learn everything you need to learn in order to achieve anything, but you can never change your leadership until you change your rituals.
Rituals can strengthen and spotlight the values, intentions, and experiences you have chosen to live by; they and can be useful when we are trying to figure out what is important.
Here are some things that great leaders are doing wholeheartedly to make each day count.
Ritual of READING:  Books are the understated and most constant of friends; they are the most accessible and wisest of mentors, and the most patient of teachers. Become an avid reader; invest your time by reading something educational, inspirational, or motivational.
Ritual of LISTENING:  Leaders know that time is precious. Give yourself the advantage of learning something new by listening to audio programs—and repeat them until you have digested the information. Most people do not listen with the intent to understand; they listen with the intent to reply. Learn something by listening.
Ritual of MENTORSHIP:  One of the greatest things we can do for ourselves is to learn from a mentors.  A mentor isn't someone who lectures, but someone who inspires you to give the best in order to discover what you already know. Find a mentor, grasp what they have done, copy what they do, and then learn how to improve upon it.
Ritual of FEEDBACK: Leaders embrace feedback both negative and positive. Find someone who knows you well and ask them for feedback. Don't justify or argue but listen and evaluate the feedback carefully, especially when it gets hard to swallow or accept. Use all feedback to learn.
Ritual of ASKING:  As leaders, in order to grow, we must be willing to ask for help—whether it's assistance with a short-term situations or identifying and correcting a bad patterns. The more that we ask, the more things we will know. The more that we learn, the more we will grow.
Ritual of JOURNALING:  Many of the best leaders keep a journal and develop a daily habit of journaling. It's an excellent way to measure your growth and progress, which is sometimes hard to grasp in the day-to-day perspective. Journaling helps us to see clearer, to remember more, and to see what counts.
Ritual Of IMPROVEMENT:   The best leaders dedicate themselves to constant growth. They commit to finding small ways to improve, every day, all the time. No matter how good you get you can always get better, and that's the exciting part.
Rituals can be transformative. The amalgamation of setting an intention, heightens our focus, elevates our emotional involvement, and embodies our participation in effecting our lives and leading.
Make a better tomorrow, by making each day count.
Lead From Within: When you become a little bit better each day when you make learning a constant ritual. The best leaders are constantly improving, learning, growing and developing.
---
N A T I O N A L   B E S T S E L L E R
The Leadership Gap: What Gets Between You and Your Greatness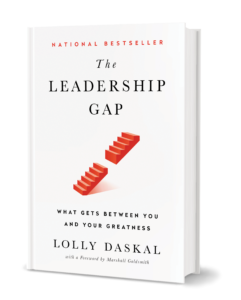 After decades of coaching powerful executives around the world, Lolly Daskal has observed that leaders rise to their positions relying on a specific set of values and traits. But in time, every executive reaches a point when their performance suffers and failure persists. Very few understand why or how to prevent it.
---
Additional Reading you might enjoy:

Photographer Joel Robison
---
Lolly Daskal is one of the most sought-after executive leadership coaches in the world. Her extensive cross-cultural expertise spans 14 countries, six languages and hundreds of companies. As founder and CEO of Lead From Within, her proprietary leadership program is engineered to be a catalyst for leaders who want to enhance performance and make a meaningful difference in their companies, their lives, and the world.

Of Lolly's many awards and accolades, Lolly was designated a Top-50 Leadership and Management Expert by Inc. magazine. Huffington Post honored Lolly with the title of The Most Inspiring Woman in the World. Her writing has appeared in HBR, Inc.com, Fast Company (Ask The Expert), Huffington Post, and Psychology Today, and others. Her newest book, The Leadership Gap: What Gets Between You and Your Greatness has become a national bestseller.
---