Over the past few weeks, we have been discussing different aspects of change—most recently, with suspension on how we can move forward on our own pace when it comes to change.
But once we've made the commitment to change, how do we know we are ready?
At the heart of readiness is the answer to a single question:
What does the future look like, and does it include me?
Most organizations approach change with a long list of questions for leaders and employees, questions that come from HR consultants:
Do I know what the change will be?
Do I have a clear understanding of what is needed for the change?
Do I see the value in the change?
Do I see how the change will effect the future?
Am I willing to do the work to make the change successful?
Am I capable of learning the new processes and procedures that need to take place?
But all these questions really boil down to this:
What does the future look like, and does it include me?
Part of the natural resistance to change is self-protection. For most of us, change is a "me" subject:
How does it affect me?
How much will I have to change?
How much control will I lose?
How will I learn what I need to know to be successful?
When will I feel like things are normal again?
When facing organizational change, addressing the "me" thinking in a way that leads to YES results in minds, hearts, and wills that are open to change. And then only then can "me" thinking become "we" thinking.
Successful change happens in organizations when we can quickly move the thinking from "me" to "we."
We are stronger together than apart.

We are more effective when we resonate in unison.

We are more creative if we all work together.
The same is true of changes in every aspect of our lives, because we do not exist in silos but have a ripple effect on those around us.
Even with leadership, we start with "me" and move to influence the "we."
Leaders inspire.
Employees influence.
And as individuals we all make a difference.
When we prepare for a change, don't ask "Am I ready for this change?" but "Are WE ready for this change?"
Well, are we?
Lead From Within: Being ready is 90 percent of the game — in leadership, in business, and in life. And being ready requires emotions, understanding, communication, and ownership.
---
N A T I O N A L   B E S T S E L L E R
The Leadership Gap: What Gets Between You and Your Greatness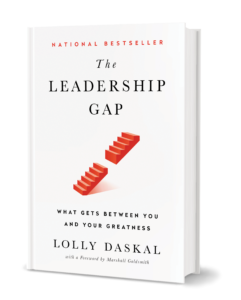 After decades of coaching powerful executives around the world, Lolly Daskal has observed that leaders rise to their positions relying on a specific set of values and traits. But in time, every executive reaches a point when their performance suffers and failure persists. Very few understand why or how to prevent it.
---
Additional Reading you might enjoy:

Photo Credit: Getty Images
---
Lolly Daskal is one of the most sought-after executive leadership coaches in the world. Her extensive cross-cultural expertise spans 14 countries, six languages and hundreds of companies. As founder and CEO of Lead From Within, her proprietary leadership program is engineered to be a catalyst for leaders who want to enhance performance and make a meaningful difference in their companies, their lives, and the world.

Of Lolly's many awards and accolades, Lolly was designated a Top-50 Leadership and Management Expert by Inc. magazine. Huffington Post honored Lolly with the title of The Most Inspiring Woman in the World. Her writing has appeared in HBR, Inc.com, Fast Company (Ask The Expert), Huffington Post, and Psychology Today, and others. Her newest book, The Leadership Gap: What Gets Between You and Your Greatness has become a national bestseller.
---