If you're like most leaders, you're always looking for ways to improve your leadership.
People are constantly asking me what they can do to make their leadership exceptional. They usually expect the answer to involve costly coaching sessions, or expensive training programs. But the best advice I can give is a simple technique that will improve your leadership immediately without costing a penny.
Here it is: Get out of the office.
The leader who is always in the office behind closed doors is not the kind of leader people want to follow.
Get up and get out.
Talk to your team, connect with your advisors, speak to your people.
While you're there, make sure you try out these leadership practices:
Smile with sincerity. Smiling is a powerful tool. It helps people relax around you; it draws people closer and allows you to connect easily with others.
Engage wholeheartedly. A recent study found that 70 percent of employees are miserable at work and most people feel their boss or leader doesn't engage with them. You can do better. Connect with your team and find ways to let your people know they are important to you.
Listen carefully. Keep your ears open. Too often leaders think they have to do all the talking, but the best thing you can do is smile and genuinely listen. People have a lot on their minds, and they need someone who is available to listen to what they have to say.
Question with curiosity. The best leaders are always asking questions—not only to elicit information but also to help others better understand the issues.
Answer earnestly. Most people on your team probably have questions they want to ask, but they may feel too intimidated to ask or they're concerned about disturbing you. Make it easy for people to find you and speak to you—keep yourself available and accessible. You may want to schedule a listening session or another time when people are specifically encouraged to ask what is on their mind so they can be as productive and effective as possible.
Get feedback. Most leaders don't really want honest feedback, so they don't ask for it—and as a result they receive it only in rare cases when it's forced on them. The best leaders know that feedback is the most reliable path to improvement, and it's an important part of their efforts to be better and lead better. But it's not all about criticism and improvement—feedback is also the best way to discover your strengths.
Give feedback. Leaders need an open channel of communication with their people. Learning to give feedback well opens the dialogue and leads to more candor in both directions, enhancing credibility and competencies on both sides.
Show that you care. There is this big misconception that leadership is all about power and influence, and that showing care and compassion is a sign of weak leadership. Nothing could be farther from the truth. The best leaders are remembered not for their power but for how they made people feel. Let people know you care, be there for them, and show that you appreciate and value them.
It's easy to get bogged down in everyday responsibilities and accountability, but in the end it's the small, simple things that end up mattering the most.
Lead from within: When was the last time you left your office and engaged with those you value the most?
---
N A T I O N A L   B E S T S E L L E R
The Leadership Gap: What Gets Between You and Your Greatness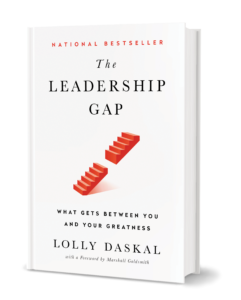 After decades of coaching powerful executives around the world, Lolly Daskal has observed that leaders rise to their positions relying on a specific set of values and traits. But in time, every executive reaches a point when their performance suffers and failure persists. Very few understand why or how to prevent it.
---
Additional Reading you might enjoy:

Photo Credit: Getty Images
---
Lolly Daskal is one of the most sought-after executive leadership coaches in the world. Her extensive cross-cultural expertise spans 14 countries, six languages and hundreds of companies. As founder and CEO of Lead From Within, her proprietary leadership program is engineered to be a catalyst for leaders who want to enhance performance and make a meaningful difference in their companies, their lives, and the world.

Of Lolly's many awards and accolades, Lolly was designated a Top-50 Leadership and Management Expert by Inc. magazine. Huffington Post honored Lolly with the title of The Most Inspiring Woman in the World. Her writing has appeared in HBR, Inc.com, Fast Company (Ask The Expert), Huffington Post, and Psychology Today, and others. Her newest book, The Leadership Gap: What Gets Between You and Your Greatness has become a national bestseller.
---