A 50-year-old Navy veteran and construction worker named Wesley Autrey was at a New York subway station waiting for a train with his daughters when a nearby man collapsed and fell onto the tracks, where a train was already approaching.
While others watched in horror, Autrey took action. He jumped onto the tracks and lay on top of the victim, who seemed to be having a seizure, keeping them both pressed between the tracks. Five cars passed over them before the train was able to come to a stop. Miraculously, neither was seriously injured.
Autrey later told the New York Times, "I don't feel like I did something spectacular; I just saw someone who needed help. I did what I felt was right"
To find inspiration, just look for ordinary people with extraordinary stories of heroism. They're all around us.
When we follow a code of what is right, we can become a hero in our own life. When we live with compassion, we can become a hero in lives of others.
Someone needs to sacrifice, someone needs to inspire, someone needs to be a hero. Why not me? Why not you?
Here's what it takes:
Strong value system. Heroes live by their values, and they are willing to endure personal hardship and take potential risks to protect those values. They know that within their deepest values lies their highest purpose.
Secure confidence. Heroes believe in themselves, with a strong sense of their abilities that takes over when most others feel fear.  Faced with a crisis, they believe they are capable of handling the challenge and achieving success whatever the odds.
Commitment to doing what's right. Heroes are about doing the right thing. There is power within good deeds, shining moments when the impossible becomes possible. Heroes seek out opportunities to unleash that power.
Persistence. Heroes have a high tolerance for risk. Where most would walk or even run away, they stay focused on how they can best make a difference.
Positive attitude. Heroes are positive thinkers by nature, which contributes to their ability to look past the immediate danger of a situation and see a more optimistic outcome. They have learned to put a positive spin on negative events.
Deep caring. Heroes care about others and genuinely want to make a difference.   The most powerful force on earth is a caring heart.
A calling. Heroes are ordinary people called to do extraordinary things. Faced with an everyday situation or a once-in-a-lifetime challenge, they stay in tune with that calling.
A hero is not only a brave individual, but a brave individual who dares to be distinct.

We are all ordinary and we are all extraordinary
We are all timid and we are all bold.
We are all weak and we are all strong.
We are all scared and we are all fearless
We are all helpless and we are all heroes.
At every given moment we can choose what we will be.
If you honor the moments by not wasting them, they will honor you back with a calling as a hero.
LEAD FROM WITHIN Heroes are people who are flawed, have fail and fall, but win out in the end because they have stayed true to their values, confidence and calling—no matter what.
---
National Bestselling Book:
The Leadership Gap: What Gets Between You and Your Greatness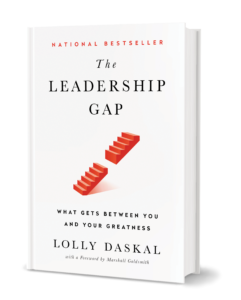 After decades of coaching powerful executives around the world, Lolly Daskal has observed that leaders rise to their positions relying on a specific set of values and traits. But in time, every executive reaches a point when their performance suffers and failure persists. Very few understand why or how to prevent it.
---
Additional Reading you might enjoy:

Photo Credit: Getty Images
---
Lolly Daskal is one of the most sought-after executive leadership coaches in the world. Her extensive cross-cultural expertise spans 14 countries, six languages and hundreds of companies. As founder and CEO of Lead From Within, her proprietary leadership program is engineered to be a catalyst for leaders who want to enhance performance and make a meaningful difference in their companies, their lives, and the world.

Of Lolly's many awards and accolades, Lolly was designated a Top-50 Leadership and Management Expert by Inc. magazine. Huffington Post honored Lolly with the title of The Most Inspiring Woman in the World. Her writing has appeared in HBR, Inc.com, Fast Company (Ask The Expert), Huffington Post, and Psychology Today, and others. Her newest book, The Leadership Gap: What Gets Between You and Your Greatness has become a national bestseller.
---