We've all heard the  word must too many times: You must take that job, you must have that career, you must be that kind of leader, you must be clever, you must have all the answers, you must be at all meetings, you must be perfect, you must be smart, you must be on time, you must always be right, you must travel for work, you must not miss that deadline, you must say the right thing, you must not express your feelings, you must . . . .
Sometimes all our musts add up to a whole bunch of I don't want to!
When we say we must do something it gives us a urgency that detracts from what we want. Is there anything we really must do or be or say or think?
Decision making often takes us to a crossroads, an intersection where we choose either what we want or what we've been told we must.
Must is what other people want for you, not what we want for yourself. When you adopt someone else's standards and values, you're surrendering your own needs and giving up who you are for another. Sometimes the musts end up accommodating all the things you don't want and pressuring you to be something you aren't.
Must makes you feel to say what you feel when all you want is to tell your truth. If you see injustice at work do you feel free to speak up? If you see a colleague being berated by your boss, do you feel you have to bite your tongue? Must too often prevents us from expressing our values, feelings, and judgments.
Must keeps you from thinking for yourself and standing out. Is your organization led by consensus, or does the leader make decisions single-handedly? Do you have a voice, or are you in a place where your ideas and opinions aren't welcome? Must can keep us from individual thought and expression—and therefore from coming into our own professionally.
It's not a question of absolutes. People work and gain valuable experience everyday in companies where they feel constrained in their individual expression and ideas. And most of us feel, at some level, hemmed in by too many musts.
The trouble comes when we become so unfamiliar with our wants that we forget they exist, when we forget that living with all the musts isn't the only option.
Our wants are not someone else's ideas for us but our own ideas for ourselves. It's not someone else's version of ourselves but our own authentic self speaking up and saying how we feel.
It's not easy being caught between must and want. But each one of us needs to define our personal boundaries and learn not to compromise them or dismiss our wants.
Lead From Within: At the intersection between want and must, it's up to you to decide how to be authentic yourself.
---
N A T I O N A L B E S T S E L L E R
The Leadership Gap: What Gets Between You and Your Greatness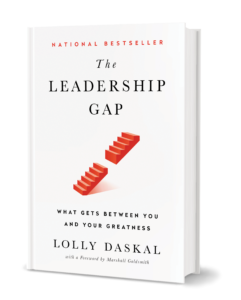 After decades of coaching powerful executives around the world, Lolly Daskal has observed that leaders rise to their positions relying on a specific set of values and traits. But in time, every executive reaches a point when their performance suffers and failure persists. Very few understand why or how to prevent it.
---
Additional Reading you might enjoy:

Photo Credit: Getty Images
---
Lolly Daskal is one of the most sought-after executive leadership coaches in the world. Her extensive cross-cultural expertise spans 14 countries, six languages and hundreds of companies. As founder and CEO of Lead From Within, her proprietary leadership program is engineered to be a catalyst for leaders who want to enhance performance and make a meaningful difference in their companies, their lives, and the world.

Of Lolly's many awards and accolades, Lolly was designated a Top-50 Leadership and Management Expert by Inc. magazine. Huffington Post honored Lolly with the title of The Most Inspiring Woman in the World. Her writing has appeared in HBR, Inc.com, Fast Company (Ask The Expert), Huffington Post, and Psychology Today, and others. Her newest book, The Leadership Gap: What Gets Between You and Your Greatness has become a national bestseller.
---