A man was walking through the forest and saw a fox that had lost its legs. He couldn't help wondering how it was able to survive.
A few minutes later he saw a tiger come by with some game in its mouth.
The tiger sat down to eat his game. Then, when he was full, he left the rest of his game for the fox.
The next day, and the day after, the same thing happened. The tiger brought his catch, had his share, and left the remainder for the fox.
The man began to wonder Why do I need to work so hard? Why not just sit back and trust that everything I need will come to me?  Why don't I live like the fox and trust that my needs will be taken care of?
And so the next day, the man came back to the forest and sat himself down at the trunk of a tree and did nothing.  He placed all his trust in the fact that his needs would be met.
But as days went by, nothing happened—except that the man grew weaker and weaker.
By the end of the week he was near death, and in his delirium he heard a clear voice:
Why did you choose to imitate the disabled fox and not follow the lead of the tiger?
So many times in life and leadership we want to take the easy road. We feel entitled; we believe that good things should come our way whether or not we earn them.
But leadership is not about entitlement but hard work. To be our most effective, we should follow the lead of the tiger in the gifts we bring to those around us.
Tigers are a symbol of strength and power—courageous, active, and self-assured.
Lead with strength and self-assurance and you will bring the gift of fervent inspiration.
Tigers are fearless—they disregard danger and rush in where more cautious individuals would fear to tread.
Lead without fear and you will bring the gift of forceful courage.
Tigers are dynamic. Their energy and vitality are boundless.
Lead with enthusiasm and you will bring the gifts of intense creativity.
Tigers are independent, unconventional, and optimistic, daring fighters who are willing to stand up for what they think is right.
Lead with independence and tenderhearted tenacity and you will bring the gift of fierce commitment.
We always have a choice: we can sit idly by and wait for someone else's leftovers, or we can go out and lead.
Lead From Within: No single trait of your leadership will be guaranteed to change the trajectory of your followers or company or relationships, but your leadership—in the sum of all its parts—will make a difference one person at a time. So make it as fierce as a tiger.
---
N A T I O N A L   B E S T S E L L E R
The Leadership Gap: What Gets Between You and Your Greatness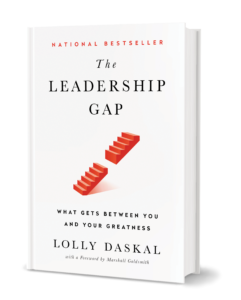 After decades of coaching powerful executives around the world, Lolly Daskal has observed that leaders rise to their positions relying on a specific set of values and traits. But in time, every executive reaches a point when their performance suffers and failure persists. Very few understand why or how to prevent it.
---
Additional Reading you might enjoy:

Photo Credit: Getty Images
---
Lolly Daskal is one of the most sought-after executive leadership coaches in the world. Her extensive cross-cultural expertise spans 14 countries, six languages and hundreds of companies. As founder and CEO of Lead From Within, her proprietary leadership program is engineered to be a catalyst for leaders who want to enhance performance and make a meaningful difference in their companies, their lives, and the world.

Of Lolly's many awards and accolades, Lolly was designated a Top-50 Leadership and Management Expert by Inc. magazine. Huffington Post honored Lolly with the title of The Most Inspiring Woman in the World. Her writing has appeared in HBR, Inc.com, Fast Company (Ask The Expert), Huffington Post, and Psychology Today, and others. Her newest book, The Leadership Gap: What Gets Between You and Your Greatness has become a national bestseller.
---