When things get messed up—and they do—some people respond with lying, denying or minimizing their own responsibility.
Leaders know that to be respected or trusted they must be accountable. They must be willing to be responsible even before they know how things will turn out.
If it is to be, it's up to me:
Accountability starts with you. It means you are responsible. It's not so much a way of thinking as a way of being, and it starts from within.
Accountability is about being reliable. Ask yourself "Can people count on me to do what I say I'll do, as I said I would do it?" You must always keep your word.
Accountability is ownership. It's the willingness to hold yourself to account, it means taking totally ownership no matter the mess up
Accountability is about creating clarity. When you are accountable you clear up the gaps and voids of expectations and what you are going to be doing.
Accountability is about trustworthiness. When you are responsible and you make a commitment, you hold yourself to a high standard where others know and can trust in you.
Accountability is a partnership. Partnerships are about support and mutual accountability; when you are held accountable by a partner, it's important to recognize and respect the power of their intention and respond with appreciation rather than anger.
Successful leaders front load accountability into their leadership development.

Being accountable begins with accepting responsibility and leading from a place of action.
Choices + Behaviors + Actions = Accountability
I am accountable means you are able to count on me: if it is to be, it's up to me.
Great leaders who are bound by their word are liberated by their accountability.

Lead From Within: You are the leader of your life. Consider the importance of accountability and work to incorporate it in every area you influence.
---
N A T I O N A L   B E S T S E L L E R
The Leadership Gap: What Gets Between You and Your Greatness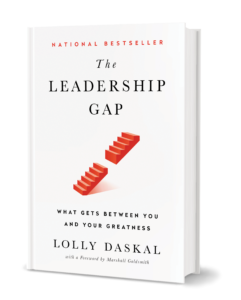 After decades of coaching powerful executives around the world, Lolly Daskal has observed that leaders rise to their positions relying on a specific set of values and traits. But in time, every executive reaches a point when their performance suffers and failure persists. Very few understand why or how to prevent it.
---
Additional Reading you might enjoy:

Photo Credit: Getty Images
---
Lolly Daskal is one of the most sought-after executive leadership coaches in the world. Her extensive cross-cultural expertise spans 14 countries, six languages and hundreds of companies. As founder and CEO of Lead From Within, her proprietary leadership program is engineered to be a catalyst for leaders who want to enhance performance and make a meaningful difference in their companies, their lives, and the world.

Of Lolly's many awards and accolades, Lolly was designated a Top-50 Leadership and Management Expert by Inc. magazine. Huffington Post honored Lolly with the title of The Most Inspiring Woman in the World. Her writing has appeared in HBR, Inc.com, Fast Company (Ask The Expert), Huffington Post, and Psychology Today, and others. Her newest book, The Leadership Gap: What Gets Between You and Your Greatness has become a national bestseller.
---