There are elements within ourselves that can either sabotage our success or lead us to greatness. In my bestselling book, The Leadership Gap: What Gets Between You and Your Greatness, I speak about seven characteristics that can lead you away from your gaps, your failures, your sabotaging self, and allow you to embrace your greatness and your success.
Here are seven statements that reflect those characteristics. Whatever your role or aspirations–in leadership or in life–you should always be able to look at yourself in the mirror and voice these statements as truth.
1. I am confident.
Confidence is not a thing that is assured to us. We have to work on it by mastering our competencies and building expertise in our areas of capability. It is within that equation that you can honestly say "I am confident."
2. I trust my intuition.
Most people have a hard time leaving their analytical mind behind and having faith in their instincts, especially when it comes to business and leadership. But what I've found in my research is that trusting your gut is a skill that some of the top leaders of top industries use to make decisions. I've also found that those who go with their intuition are able to surpass those who rely on analytical thought alone.
3. I am honest.
Let's be honest about honesty: studies show that every third sentence a person speaks is a lie. When lying is so pervasive, then naturally telling the truth is hard. But honesty is critically important. It creates peace of mind when you take ownership of your choices and mistakes and admit it when you've done something wrong. When you take responsibility, people connect with your candor and you're free to be your best self. And when you stick with the truth, it doesn't matter how often you're asked about the subject. You'll never get caught up in conflicting versions.
4. I am courageous.
Being brave doesn't come naturally to most of us. Usually the first step in being courageous is to conquer fear itself by turning it into a motivator. In work, as in other areas of life, fear is something that can us back from happiness and success. But when you're able to describe yourself as courageous, you're saying that you're willing to face your fears, conquer your fright and do what it takes to be brave.
5. I am trustworthy.
Trust isn't easy to come by. If you want to be trusted, you have to begin by being trustworthy. Trustworthiness is shown in a person's actions, not in their words. It requires doing the right thing and doing things right and keeping your word in every circumstance. Then can you say of yourself "I am trustworthy."
6. I am a person of integrity.
Most people look for the easy way out and are willing to settle for solutions that are fast, cheap and less complicated. To do things with excellence is to be better, not faster; to focus on quality, not quantity. if you want to people to trust your leadership or do business with you, you have to understand yourself to be a person of integrity.
7. I am loyal.
A person who can say they are loyal understands how to serve others, protect others and help others. Being loyal is about thinking of others before you think of yourself.
In The Leadership Gap, I speak more about the gaps that can help us to become great if we acknowledge and leverage them–or cost us in greatness and leadership if we do not.
---
N A T I O N A L   B E S T S E L L E R
The Leadership Gap: What Gets Between You and Your Greatness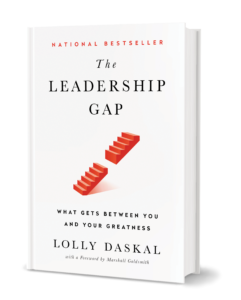 After decades of coaching powerful executives around the world, Lolly Daskal has observed that leaders rise to their positions relying on a specific set of values and traits. But in time, every executive reaches a point when their performance suffers and failure persists. Very few understand why or how to prevent it.
---
Additional Reading you might enjoy:

Photo Credit: Getty Images
---
Lolly Daskal is one of the most sought-after executive leadership coaches in the world. Her extensive cross-cultural expertise spans 14 countries, six languages and hundreds of companies. As founder and CEO of Lead From Within, her proprietary leadership program is engineered to be a catalyst for leaders who want to enhance performance and make a meaningful difference in their companies, their lives, and the world.

Of Lolly's many awards and accolades, Lolly was designated a Top-50 Leadership and Management Expert by Inc. magazine. Huffington Post honored Lolly with the title of The Most Inspiring Woman in the World. Her writing has appeared in HBR, Inc.com, Fast Company (Ask The Expert), Huffington Post, and Psychology Today, and others. Her newest book, The Leadership Gap: What Gets Between You and Your Greatness has become a national bestseller.
---