To rediscover great leadership, we must return to the basics of leading.

In a recent survey, only 3 percent said they have confidence in corporate executives.
The news was equally dismal for others: 3 percent reported having confidence in government officials, 5 percent in reporters and journalists, 8 percent in small business owners, and only 11 percent in ministers and clergy.
These results show, among other things, how hard it can be to find the leader who can be credible, courageous, trustworthy, ethical, and transparent.
But we all know great leadership is possible —because we ourselves want it.
Here are some basic ways we can be the example of what it looks like.
1. Do what you say you will do. Too many leaders just do whatever they can get away with. Be credible.
2. Do what's right, not what's easy. This one can be hard; doing what is right is rarely easy. And many times leaders choose the wrong path. Be courageous
3. Take responsibility for your actions. Stop making excuses for your decisions and rationalizing your choices. The more excuses they hear from you, the less people will trust you. Be trustworthy.
4. Stand by your convictions. Some leaders believe that high standards limit their opportunities. Everyone has their own level, but you cannot be a leader people admire if you don't have strong convictions. Know what you value and believe.
5. Find clarity in transparency. For some the idea of transparency in leadership may be disruptive, but to be unrestricted and open ensures that those you lead are open and unrestricted with you. Today's power is gained by sharing knowledge not by hoarding it. Be transparent.
6. Maintain scrupulous honesty. Leaders need to be honest with themselves and others. They need to understand what they can do what they cannot do and consider what they can do better. It is better to be realistic about who you are then have someone call you out on your pretense. Be honest.
7. Value character above perfection. It is often said that character is the cornerstone of leadership, the thing that sets people apart as leaders. Be righteous.
We can always look at others and complain that they don't have what we want in a leader—but the answer lies not with others but in each one of us.
We can be the answer to the call for leadership.

We can be the example that people want to see.

We can be the leaders that others trust and admire.
Lead from within: When we get back to the basics, we can always begin again to make it right.
---
N A T I O N A L   B E S T S E L L E R
The Leadership Gap: What Gets Between You and Your Greatness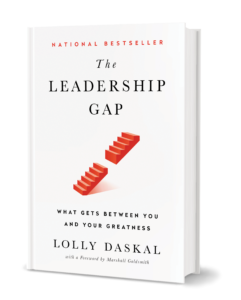 After decades of coaching powerful executives around the world, Lolly Daskal has observed that leaders rise to their positions relying on a specific set of values and traits. But in time, every executive reaches a point when their performance suffers and failure persists. Very few understand why or how to prevent it.
---
Additional Reading you might enjoy:

Photo Credit: Getty Images
---
Lolly Daskal is one of the most sought-after executive leadership coaches in the world. Her extensive cross-cultural expertise spans 14 countries, six languages and hundreds of companies. As founder and CEO of Lead From Within, her proprietary leadership program is engineered to be a catalyst for leaders who want to enhance performance and make a meaningful difference in their companies, their lives, and the world.

Of Lolly's many awards and accolades, Lolly was designated a Top-50 Leadership and Management Expert by Inc. magazine. Huffington Post honored Lolly with the title of The Most Inspiring Woman in the World. Her writing has appeared in HBR, Inc.com, Fast Company (Ask The Expert), Huffington Post, and Psychology Today, and others. Her newest book, The Leadership Gap: What Gets Between You and Your Greatness has become a national bestseller.
---