Every leader will face struggles, but some struggles are common enough that you can learn from the bad experiences of others and avoid the trouble and risk of taking them on yourself.
Here are six top struggles leaders are guaranteed to face work to avoid them.
Not doing the right thing. If you don't lead with character, struggle is practically guaranteed. Character in leadership means consistently doing the right thing and the best thing. It plays a major role in your ability to lead and influence. Great character is molded into great leadership.
Leading through demands and control. Leaders lose respect when they have to rely on demands and control—and losing respect is fatal to leadership. Leaders may try to demand respect and control outcomes. But respect is earned, not demanded, and outcomes are outside your control. Let go; learn to lead with vision and trust that the outcomes will be positive the long run.
Relying on unclear messages. If you aren't a good communicator, serious struggle is more likely to occur. Just as most people think they're good drivers, most leaders think of themselves as great communicators—but as an executive leadership coach I often see leaders who think they are communicating brilliantly when no one around them has a clue what they're trying to say. Work on your communication skills to make sure you keep your messages clear and compelling.
Trying to persuade without inspiring. No matter how strong your vision is, if you lack the ability to inspire and motivate others you're not going to connect. The difference between motivation and inspiration is that motivation must constantly be renewed, while inspiration lasts a lifetime. Great leaders instill both.
Refusing to delegate. Most leaders—if not all—think they can always do everything better themselves, and as a result they have a hard time delegating. But refusing to delegate turns you into a micromanager and erodes trust in your leadership, which leads to constant struggle. Learn how to delegate the right task to the right person and then maintain the right level of involvement.
Giving in to self-doubt. They may or may not ever express it, but from time to time every leader asks themselves, "Am I measuring up?" If the answer is no, it's likely a matter of self-doubt or lost confidence. Comparisons to others is a quick way to derail leadership. Refuse to measure yourself against anything but your own goals and expectations.
Lead From Within: Avoid struggle when you can, and learn to face the unavoidable struggles with confidence. The lessons we learn from struggles—our own or those of others—lead to true progress and growth.
---
N A T I O N A L  B E S T S E L L E R
The Leadership Gap: What Gets Between You and Your Greatness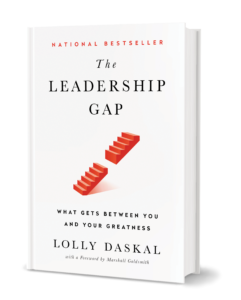 After decades of coaching powerful executives around the world, Lolly Daskal has observed that leaders rise to their positions relying on a specific set of values and traits. But in time, every executive reaches a point when their performance suffers and failure persists. Very few understand why or how to prevent it.
---
Additional Reading you might enjoy:

Photo Credit: iStock Photo
---
Lolly Daskal is one of the most sought-after executive leadership coaches in the world. Her extensive cross-cultural expertise spans 14 countries, six languages and hundreds of companies. As founder and CEO of Lead From Within, her proprietary leadership program is engineered to be a catalyst for leaders who want to enhance performance and make a meaningful difference in their companies, their lives, and the world.

Of Lolly's many awards and accolades, Lolly was designated a Top-50 Leadership and Management Expert by Inc. magazine. Huffington Post honored Lolly with the title of The Most Inspiring Woman in the World. Her writing has appeared in HBR, Inc.com, Fast Company (Ask The Expert), Huffington Post, and Psychology Today, and others. Her newest book, The Leadership Gap: What Gets Between You and Your Greatness has become a national bestseller.
---