Every team has its own habits, but some habits—like some teams—are more effective than others. Building and reinforcing good habits can be the key to a cohesive and productive team. Make sure your team is supported with habits that will take them from vision to goals to achievement. Here are some of the best:
Keep the safety net strong. Productive teams are not scared of failing or messing up. They're not afraid to take risks and be vulnerable with each other, because they have the security of knowing no one will fault them if things go sideways. The essence of a great productive team is the combination of accepting risk while insisting on excellence. Every team member wants to know: Can I take risks without feeling insecure or embarrassed?
Create structure and clarity. The best teams assign each member a clear role with clear plans, guidelines and goals. They make sure that they've fit the best qualified person in each key role on the basis of background and personality, and they make sure everyone has the training they need to meet high expectations. The result is an impressive structure and clarity that make effectiveness almost a given.
Every team member wants to know: Are goals, roles, and execution plans clear? Do I know what's expected of me, is it a good fit, and do I have the training I need to do it well?
Work at an optimal pace. It's not about speed but finding the right pace. If your team moves too quickly, burnout will soon begin to set in; too slowly, and things become stagnant. Productive teams know they have to find the right balance as they continue to grow and achieve. The environment in which teams operate is more important than ever. Every team member wants to know: Do I have to work around the clock to look productive, or can I pace myself to bring out my best work?
Foster accountability and responsibility. Teams fail when no one holds the members accountable for success. Very few people can continue to function well without a structure in place to ensure consistent progress. The best teams reach their full potential when they are able to be accountable for their work and responsible for their results. Every team member wants to know: Can we count on each other to do high-quality work on time?
Keep the big picture in view. It's great to get a talented group of people together to do something well, but that work gains true significance when they know it has impact, that it will make a difference and create change. That awareness is the difference between a good team and a great team. Every team member wants to know: Do we fundamentally believe that the work we're doing matters?
Lead from within: For teams to become more productive, they need to master productive habits.
---
N A T I O N A L   B E S T S E L L E R
The Leadership Gap: What Gets Between You and Your Greatness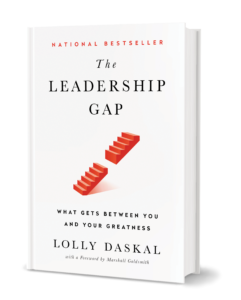 After decades of coaching powerful executives around the world, Lolly Daskal has observed that leaders rise to their positions relying on a specific set of values and traits. But in time, every executive reaches a point when their performance suffers and failure persists. Very few understand why or how to prevent it.
---
Additional Reading you might enjoy:
Photo Credit: iStock Photos
---
Lolly Daskal is one of the most sought-after executive leadership coaches in the world. Her extensive cross-cultural expertise spans 14 countries, six languages and hundreds of companies. As founder and CEO of Lead From Within, her proprietary leadership program is engineered to be a catalyst for leaders who want to enhance performance and make a meaningful difference in their companies, their lives, and the world.

Of Lolly's many awards and accolades, Lolly was designated a Top-50 Leadership and Management Expert by Inc. magazine. Huffington Post honored Lolly with the title of The Most Inspiring Woman in the World. Her writing has appeared in HBR, Inc.com, Fast Company (Ask The Expert), Huffington Post, and Psychology Today, and others. Her newest book, The Leadership Gap: What Gets Between You and Your Greatness has become a national bestseller.
---