Mistakes happen and sometimes our mistakes can change things permanently.
They might be the truest words ever spoken: Nobody's perfect but things happen.
We all make mistakes. Most of the time we recover and move on, and learn something on the way if we're paying attention.
Especially for someone in a position of leadership, though, there are some mistakes that cause lasting harm. And as the computer warning says, "This action cannot be undone." be aware of the distinction.
Here are some mistakes you can never take back as a leader:
1. A word that's been said. As a leader, you never want to express a bad mood with bad words. You'll have many opportunities to change your mood, but hurtful words, once said, can never be taken back. We may worry about leaving an electronic trail with texts and e-mail, but the words we say out loud are in some ways even more permanent.
2. A stone that's been thrown. It's easy to judge others, but judgment often has a way of turning on us—and you may someday find yourself equally misunderstood. It's especially important for those of us in leadership to be extremely mindful. Everything has consequences.
3. Trust that's been broken. You cannot be a great leader without trust, built on a long steady history of being reliable, dependable and credible. Trust is the power to inspire and influence, the glue that bonds us to each other—and it's easily broken. Leaders who understand the value of that trust will safeguard it carefully.
4. Time that's passed. We need time to work, time to eat, time to sleep, time to accomplish all that we need to do. We also need time to know and to understand and to learn and to cultivate great relationships. Time is among the most precious of gifts, and once it's passed it's gone forever. Each one of us has 24 hours a day, and no one else can live it for us. It can feel infinite at times, but in truth it's a limited and nonrenewable resource, so treat it with the care it deserves.
5. An opportunity that's been missed. If we're lucky, we get a chance, maybe even more than one, to get the life we want. And few things are worse than the realization that you've missed a life-altering opportunity. But don't waste time grieving—instead, learn to seize the moments as they come.
There will be times we mess up, and some of them will involve things we can't take back. The trick is to own up to our mistakes and be accountable. That's how we earn respect and learn to do better next time.
Lead from within: Good people sometimes make bad decisions and take wrong actions; they mess up and let themselves and others down, but that doesn't make them bad people. We all make mistakes—just don't make the same ones twice.
---
N A T I O N A L   B E S T S E L L E R
The Leadership Gap: What Gets Between You and Your Greatness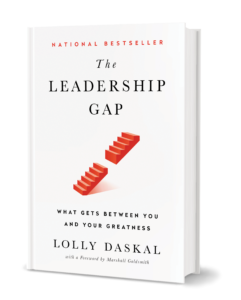 After decades of coaching powerful executives around the world, Lolly Daskal has observed that leaders rise to their positions relying on a specific set of values and traits. But in time, every executive reaches a point when their performance suffers and failure persists. Very few understand why or how to prevent it.
---
Additional Reading you might enjoy:

Photo Credit: Getty Images
---
Lolly Daskal is one of the most sought-after executive leadership coaches in the world. Her extensive cross-cultural expertise spans 14 countries, six languages and hundreds of companies. As founder and CEO of Lead From Within, her proprietary leadership program is engineered to be a catalyst for leaders who want to enhance performance and make a meaningful difference in their companies, their lives, and the world.

Of Lolly's many awards and accolades, Lolly was designated a Top-50 Leadership and Management Expert by Inc. magazine. Huffington Post honored Lolly with the title of The Most Inspiring Woman in the World. Her writing has appeared in HBR, Inc.com, Fast Company (Ask The Expert), Huffington Post, and Psychology Today, and others. Her newest book, The Leadership Gap: What Gets Between You and Your Greatness has become a national bestseller.
---