Mindfulness is a growing concept in business, one that's been adopted around the world. Many top leaders practice daily meditation–they've experienced its benefits and value, and they report that it makes them a better and more successful leader.
On the basis of their executives' experience, companies are beginning to integrate mindfulness techniques into their high potential programs, with the goal of creating agile and flexible mindsets in their developing leaders.
If you are still among the skeptics, here are 10 ways mediation can make you a better and more successful leader:
Sharpening your attention. Research shows that a daily mediation practice can help individuals sharpen their focus and improve on their concentration. Our minds tend to wander about half the time, but with meditation you can teach yourself to curb distractions and strengthen your ability to focus.
Developing self-awareness. Meditation naturally leads to increased introspection, which in turn allows you to recover faster when provoked, disengage when you need to, and control bad habits.
Building resiliency. By decreasing anxiety, meditation may be able to boost resilience and performance under stress. Daily mediation can help you keep your composure and reduce the impact of stress.
Cultivating emotional intelligence. A mindfulness practice can help you slow down enough to manage your emotions and respond with empathy and logic. People who practice mindfulness have greater control over their emotions and are less likely to react impulsively to frustrating or emotionally charged situations. This could aid in making more logical decisions and remaining calm.
Enhancing creativity. Studies on creativity suggest that we come up with our greatest insights and biggest breakthroughs when we are in a more meditative and relaxed state of mind. That is when we have the "aha!" moments. Meditation encourages divergent thinking, which generates multiple solutions and is a key component of creativity.
Deepening relationships. Leaders who meditate daily report higher levels of satisfaction in their personal and professional relationships. Meditation can help protect you from the negative effects of the conflict and challenges that are built in to relationships.
Controlling anxiety. Leadership comes with a burden of constant apprehension and concern, and learning to reduce anxiety is among the most valuable benefits of meditation and mindfulness.
Building confidence. Meditating teaches you to stop rushing between things and limiting yourself. It makes you believe that you can accomplish all the things you thought were impossible.
Improving sleep. About 50 percent of people experience insomnia at some point in their lives. Studies show that meditation can help you get to sleep sooner and stay asleep for longer period of time. It teaches you techniques for redirecting or controlling the racing thoughts that frequently result in insomnia, helping you feel relaxed, tension-free, and peaceful.
Fostering equanimity. Especially when it feels like everything's falling apart, a tool that gives you peace of mind and composure and helps you stay calm and level-headed is a good investment of your time and energy.
Lead from within: Meditation is a secret weapon. If you want to be a better and more successful leader, cultivate it as a daily practice.
---
N A T I O N A L   B E S T S E L L E R
The Leadership Gap: What Gets Between You and Your Greatness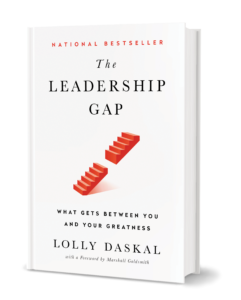 After decades of coaching powerful executives around the world, Lolly Daskal has observed that leaders rise to their positions relying on a specific set of values and traits. But in time, every executive reaches a point when their performance suffers and failure persists. Very few understand why or how to prevent it.
---
Additional Reading you might enjoy:

Photo Credit: iStock Photos
---
Lolly Daskal is one of the most sought-after executive leadership coaches in the world. Her extensive cross-cultural expertise spans 14 countries, six languages and hundreds of companies. As founder and CEO of Lead From Within, her proprietary leadership program is engineered to be a catalyst for leaders who want to enhance performance and make a meaningful difference in their companies, their lives, and the world.

Of Lolly's many awards and accolades, Lolly was designated a Top-50 Leadership and Management Expert by Inc. magazine. Huffington Post honored Lolly with the title of The Most Inspiring Woman in the World. Her writing has appeared in HBR, Inc.com, Fast Company (Ask The Expert), Huffington Post, and Psychology Today, and others. Her newest book, The Leadership Gap: What Gets Between You and Your Greatness has become a national bestseller.
---