Every year Nobel Prizes are handed out for economics, literature, medicine and sciences, and peace.
These awards are made possible by a massive fortune that supports the program. The idea of honoring each year's best of the best was created over a century ago by Alfred B. Nobel, who had become wealthy as an arms manufacturer and the inventor of dynamite.
He decided to dedicate his fortune to this noble cause because of something that happened to him—something that very few of us ever get to experience.
When Nobel's brother died, a newspaper mistakenly ran the obituary of Alfred Nobel. What he read horrified him. He was described as a merchant of death, a man who had made it possible to kill more people more quickly than anyone else who had ever lived. Extremely upset, Nobel decided that he wanted to be remembered for something more positive.
We may never see our own obituary, but like Alfred Nobel, we all have the opportunity to craft a legacy that is aligned with our best self.
How can you create a legacy to be proud of?
Tend to your thoughts. Our lives are created from our thoughts, and when we posses control over our thinking we can choose the life we want to live. If you believe you are a failure, people will view as a failure; if you see yourself as honest, kind and loving the world in turn will respond positively to you. It is always in our choosing to choose our thoughts
The examined life. To live a full life, you must take the time to examine yourself. Plato said "Know thyself," and Socrates urged his fellow Athenians to live noble lives—to think critically and logically, with probing minds and open hearts, because he believed that through examination we can find a life worth living and a legacy worth leaving.
Take responsibility. If you hope to accomplish great things you must begin to accept responsibility for your actions—today, tomorrow, and in the future—no matter how old or how young you are.
Make yourself necessary. Look at the world around you the people in your life, the community you live in, and think of what you can offer of benefit. Then do everything you can to offer it—in your offering you will change the world.
Give love and give it freely. Life becomes more meaningful and everlasting when you express love without condition. A loving person creates a loving world, and if you can be remembered as someone who was filled with love for humanity, your legacy will be surely be a lasting one.
Count your blessings. The act of gratitude can transform any life, from hard to happy, from melancholy to magnificent, from troubled to tender. The heart that is open to thankfulness is usually receptive to a meaningful life.
Think less about what you can get and more about what you can give. No person was ever honored for what they received but for what they gave. Go the extra mile when you give and your legacy will be great.
Working to create a great legacy helps you to be honest with yourself. You learn what is real, what matters most. you learn to be true to yourself and live your life with dignity and compassion.
LEAD FROM WITHIN: There are no limits on how you can leave your mark in this world but your legacy matters and it matters because you matter.
---
N A T I O N A L B E S T S E L L E R
The Leadership Gap: What Gets Between You and Your Greatness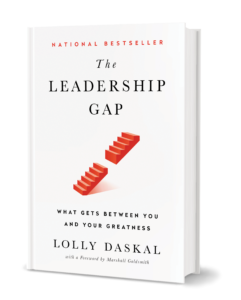 After decades of coaching powerful executives around the world, Lolly Daskal has observed that leaders rise to their positions relying on a specific set of values and traits. But in time, every executive reaches a point when their performance suffers and failure persists. Very few understand why or how to prevent it.
---
Additional Reading you might enjoy:

Photo Credit: Getty Images
---
Lolly Daskal is one of the most sought-after executive leadership coaches in the world. Her extensive cross-cultural expertise spans 14 countries, six languages and hundreds of companies. As founder and CEO of Lead From Within, her proprietary leadership program is engineered to be a catalyst for leaders who want to enhance performance and make a meaningful difference in their companies, their lives, and the world.

Of Lolly's many awards and accolades, Lolly was designated a Top-50 Leadership and Management Expert by Inc. magazine. Huffington Post honored Lolly with the title of The Most Inspiring Woman in the World. Her writing has appeared in HBR, Inc.com, Fast Company (Ask The Expert), Huffington Post, and Psychology Today, and others. Her newest book, The Leadership Gap: What Gets Between You and Your Greatness has become a national bestseller.
---