"Pretend until you become it, pretend until you believe it."
What does it mean to pretend?

To pretend is to THINK something you may not yet have the language for.
To pretend is to FEEL something you may not yet have the emotions for,
To pretend is to BE something that you don't yet feel worthy of.
Many of us think that we have to say, or feel, or be something other than what we are. We say things we don't mean, thinking it's what others want to hear. We pretend to feel things that seem acceptable so that others will approve of us.
When we pretend to be or feel what we are not, we deny ourselves the quintessence of who we really are.
Life is not about pretending; it is about facing our fears, facing our insecurities, knowing our limiting beliefs.
There is no reason to pretend when we can simply apply our strengths to areas that are not as secure or strong.
How to apply ourselves instead of pretending to ourselves?
Express Your Reality: As leaders, we have difficulty facing the reality of our insecurities, and sometimes we pretend they aren't there so no one has to know. The truth is who you are is always within you, we must find our strength and move forward into our reality with the parts of ourselves we love, and embody it with everything we do.
To many of us are not living our reality because we are living pretended lives.
Live Your Greatness:  When you see great talent and capabilities in others, you may feel that you are lacking something important in yourself. Remember that the greatness you see in them is actually greatness you appreciate in yourself.
When we are inspired by another it is because we recognize greatness within ourselves.
Master Your Imperfections: It's OK to be imperfect. As leaders, owning our imperfections means owning our "real" self. Pretending will never help us recognize the ways in which we are dishonest, with ourselves and with others.
Perfection is not the journey, our destination is authenticity.
Lead From Your Source: Leading from our source actually challenges us to find our dreams, intelligence, wisdom, knowledge and creativity.  Leading from our source takes courage, living without pretending takes strength.

Most people fail in life not because they think BIG but because they feel small.

When we pretend to be or feel what we are not, we rob ourselves the gratification of who we really are.
Lead From Within:  When we accept all of who we are we are realizing ALL we can become.
---
N A T I O N A L   B E S T S E L L E R
The Leadership Gap: What Gets Between You and Your Greatness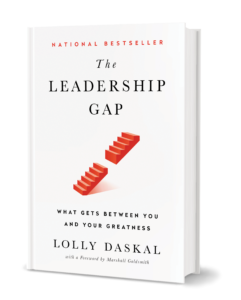 After decades of coaching powerful executives around the world, Lolly Daskal has observed that leaders rise to their positions relying on a specific set of values and traits. But in time, every executive reaches a point when their performance suffers and failure persists. Very few understand why or how to prevent it.
---
Additional Reading you might enjoy:

Photo Credit: Getty Images
---
Lolly Daskal is one of the most sought-after executive leadership coaches in the world. Her extensive cross-cultural expertise spans 14 countries, six languages and hundreds of companies. As founder and CEO of Lead From Within, her proprietary leadership program is engineered to be a catalyst for leaders who want to enhance performance and make a meaningful difference in their companies, their lives, and the world.

Of Lolly's many awards and accolades, Lolly was designated a Top-50 Leadership and Management Expert by Inc. magazine. Huffington Post honored Lolly with the title of The Most Inspiring Woman in the World. Her writing has appeared in HBR, Inc.com, Fast Company (Ask The Expert), Huffington Post, and Psychology Today, and others. Her newest book, The Leadership Gap: What Gets Between You and Your Greatness has become a national bestseller.
---