Alan Watts, the British-born philosopher, has pointed out the sense, which we all seem to share, that we live in a time of unusual uncertainty. He accredits this feeling to all the new technologies and science that we are bombarded with.
The surprising thing is he said this in 1951! Think of how much more truth those words hold today.
Our technology, our business, our science have all grown exponentially, leaving us feeling more uncertain than ever.
Faced with uncertainty, we naturally strive to take control.
Control is an illusion and uncertainty is the reality.
The root of our lives is about resisting uncertainty, reaching for a safety zone, but uncertainty is a constant in life and in leadership. And when uncertainty leads to doubt and fear, we find ourselves stuck.
So how do we handle uncertainty?
We can either fight it or lean into it.
We can either fear it or embrace it
We can either control it or try to engage it.
We can either battle it or we can become comfortable with it.
To lead forward in uncertainty:
We can accept. Acknowledging and accepting that there will be uncertainty, we can keep an open heart and mind.
We can observe. When we become observers, we can look outside of ourselves, and we do not need to get trapped in our own difficulties or drama.
We can let go. When we let go of of the notion we can control everything, we free ourselves from the illusion we are in control.
The wisdom of uncertainty is to stay present and accept it, observe it and let it go.
Try not to anticipate what will happen but know that whatever comes, you can watch it and wonder how it will unfold.
This life is your life and to live it fully, to lead with wisdom, is to let insight find its way to you.
Lead From Within: If you want security, step out of your illusions and know that there is no safety in reality. Uncertainty is here to stay, but how we choose to deal with it is the one thing we really can control.
---
N A T I O N A L   B E S T S E L L E R
The Leadership Gap: What Gets Between You and Your Greatness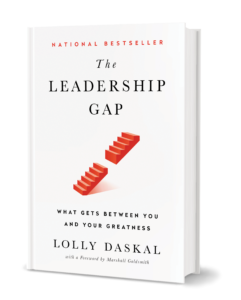 After decades of coaching powerful executives around the world, Lolly Daskal has observed that leaders rise to their positions relying on a specific set of values and traits. But in time, every executive reaches a point when their performance suffers and failure persists. Very few understand why or how to prevent it.
---
Additional Reading you might enjoy:

Photo Credit: Getty Images
---
Lolly Daskal is one of the most sought-after executive leadership coaches in the world. Her extensive cross-cultural expertise spans 14 countries, six languages and hundreds of companies. As founder and CEO of Lead From Within, her proprietary leadership program is engineered to be a catalyst for leaders who want to enhance performance and make a meaningful difference in their companies, their lives, and the world.

Of Lolly's many awards and accolades, Lolly was designated a Top-50 Leadership and Management Expert by Inc. magazine. Huffington Post honored Lolly with the title of The Most Inspiring Woman in the World. Her writing has appeared in HBR, Inc.com, Fast Company (Ask The Expert), Huffington Post, and Psychology Today, and others. Her newest book, The Leadership Gap: What Gets Between You and Your Greatness has become a national bestseller.
---