As a coach, I love listening to the stories leaders tell. Hearing these stories is a great way to get to know someone. It's always interesting to see how they compare to what I might see or what others experience.
Most of the time, I can tell what kind of leader someone is, and where their insecurities lie, by the stories they tell.
Some leaders need to always be the center of attention.

Insecure about not being heard, they make it impossible not to hear them.
Some leaders need to always be right and have trouble with other points of view.
Insecure that their own information or perspective might not be the best, they make sure their opinion is the only one that counts.
Some leaders need to take all the credit, even for work others have done.
Insecure about the value of their own talents, gifts, and self-worth, they require constant affirmation.
Some leaders engage in bullying, tyranny, and intimidation.
Insecure about their own loneliness, they relate to others only through a limited range of behaviors. 
Some leaders are quick to place blame.
Insecure about their own ability to weather mistakes, they cannot focus on problem solving.
As you can tell, leadership is not an external event but an internal narration.
We all have insecurities, but how we deal with them is a choice.
We can own them and work through them, or we can display them without self-awareness and allow them to lead us.
As a leader, learning your insecurities is part of your personal and leadership development—and it is a not a simple task.
Our realities come from deep within us, from the stories we tell ourselves about ourselves.
Recognizing and working through our insecurities is an important part of being a heart-based leader.
The heart of leadership is to nurture the whole person, to grow the whole leader.
Here's how to get there:
Pay attention: Listen to your own stories and figure out what insecurities they're revealing. If you don't have a clear sense of your own insecurities, ask a trusted advisor for their thoughts.
Break the habit: Develop new habits that resolve your insecurities and showcase your heart to those you lead.
Forgive yourself: Once you realize that your insecurities are showing, forgive yourself for being human and know through awareness and forgiveness you can do better.
One of the greatest journeys in life is learning to overcome our insecurities—and in doing so, we begin to reveal our gifts.
Go inward and discover heart; go outward and discover your gifts.
Personal and leadership development is not easy. It takes guts and it takes a strong heart.
Our deepest learning comes from inside out.
As leaders, when we are honest about our insecurities we become vulnerable in our state of development. Attention to our own experiences can provide insights into the ways we can grow.
Dig deep within yourself and uncover the gifts you have. 
Lead From Within: As a heart-based leader, we understand as the person grows so does the leader. Recognizing our inner narratives, working on our awareness, and finding the balance of our inside-out leadership lead us to our own heart.
---
N A T I O N A L   B E S T S E L L E R
The Leadership Gap: What Gets Between You and Your Greatness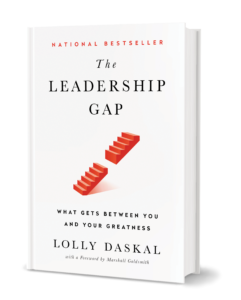 After decades of coaching powerful executives around the world, Lolly Daskal has observed that leaders rise to their positions relying on a specific set of values and traits. But in time, every executive reaches a point when their performance suffers and failure persists. Very few understand why or how to prevent it.
---
Additional Reading you might enjoy:

Photo Credit: Getty Images
---
Lolly Daskal is one of the most sought-after executive leadership coaches in the world. Her extensive cross-cultural expertise spans 14 countries, six languages and hundreds of companies. As founder and CEO of Lead From Within, her proprietary leadership program is engineered to be a catalyst for leaders who want to enhance performance and make a meaningful difference in their companies, their lives, and the world.

Of Lolly's many awards and accolades, Lolly was designated a Top-50 Leadership and Management Expert by Inc. magazine. Huffington Post honored Lolly with the title of The Most Inspiring Woman in the World. Her writing has appeared in HBR, Inc.com, Fast Company (Ask The Expert), Huffington Post, and Psychology Today, and others. Her newest book, The Leadership Gap: What Gets Between You and Your Greatness has become a national bestseller.
---