We all talk about leadership success, inspiration and motivation, but there is more to leadership and life. There are truths that we must address, and there are realities that we cannot escape.
Truth: Leaders face uncertainties.

Fear of uncertainty is always with us. It lies there waiting to challenge us and is waiting to call upon us – and sometimes it is the greatest saboteur of our inner leadership.
We cannot deny it.
When it comes to uncertainty, we need to comprehend that it's a personal matter.
It is not THE uncertainty of life that gives us anxiety, but OUR fears within ourselves that cause the pain.
It is best to face uncertainty by including it in our thoughts and actions rather than suppressing it.
Recognition of uncertainty is valuable because it helps us to guard against the things that might go wrong.
The reality of the uncertain leader may be that uncertainty may cause you complication in your life.
However, identifying the source of your uncertainty is a critical part of becoming certain.
Uncertainty may cause you fear.
But the fear of the unknown expands your knowing.
Uncertainty may cause you confusion.
But the purpose of uncertainty is to define and focus on your clarity and convictions.
My personal note to the uncertain leader…
Let your uncertainties guide you to help you understand and prepare you for your challenges.
Do not use uncertainty as an excuse to abandon your plans.
Every important risk, every important uncertainty, involves fear.
Don't run from your fear and uncertainties.
Don't pretend to be fearless. Don't pretend to be certain.
If you hold on to your uncertainties rather than expressing them authentically, you will begin to distort self. Simply recognize uncertainties and learn to adapt and adjust to them.
Uncertainty is always trying to make a case for itself in our lives, because it wants us to make a stand for what we believe in. Be the architect for others to model.
Know that fear and uncertainty drag us to the bottom of where we begin to understand the essence of our leadership.
Fear teaches us who we are and it shows us that we are about to step out of our comfort zone.
Every uncertainty is an encounter with something within ourselves that we do not understand or did not take responsibility for. Do not let it lament any part of your life and leadership, because every hardship can teach us valuable lessons.
Every uncertainty is the distance between truth and leadership and the event of greatness.
Lead from within: Uncertainty is about handling our fears. Above all, it's about helping us to live comfortably with our uncertainties so we can do better, be better and act better.
---
N A T I O N A L   B E S T S E L L E R
The Leadership Gap: What Gets Between You and Your Greatness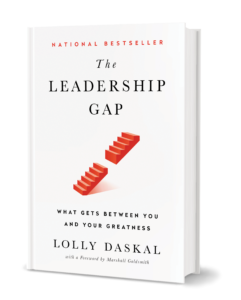 After decades of coaching powerful executives around the world, Lolly Daskal has observed that leaders rise to their positions relying on a specific set of values and traits. But in time, every executive reaches a point when their performance suffers and failure persists. Very few understand why or how to prevent it.
---
Additional Reading you might enjoy:

Photo Credit: Getty Images
---
Lolly Daskal is one of the most sought-after executive leadership coaches in the world. Her extensive cross-cultural expertise spans 14 countries, six languages and hundreds of companies. As founder and CEO of Lead From Within, her proprietary leadership program is engineered to be a catalyst for leaders who want to enhance performance and make a meaningful difference in their companies, their lives, and the world.

Of Lolly's many awards and accolades, Lolly was designated a Top-50 Leadership and Management Expert by Inc. magazine. Huffington Post honored Lolly with the title of The Most Inspiring Woman in the World. Her writing has appeared in HBR, Inc.com, Fast Company (Ask The Expert), Huffington Post, and Psychology Today, and others. Her newest book, The Leadership Gap: What Gets Between You and Your Greatness has become a national bestseller.
---