There are many theories, tools, and techniques on how to make better decisions.
What would happen if we abandoned all the programs, steps, and processes, and simply allowed a tool that we already possess to lead us toward what we want?
Here's the only tool you really need: The willingness to follow your heart and the consent to grasp its candor.
Following your heart is about observing, watching, knowing, seeing, feeling, and trusting and it requires only discipline in a few areas:
Trust. Trust your judgment. What you need to decide is already within your scope of intelligence and instinct.
No one knows as much as you know about what needs to be done.
Fear. We all have fears, but allowing fear-based decisions fuels them further. It allows doubt to rule.
When we make decisions out of our fear we are allowing our doubt to rule…
Control. Our best decisions are made when we are willing to let go of the illusion of control. It is not that illusion, but the reality of surrender and acceptance that lead us to the truth on which good decisions are made.
Thought. In short, don't believe everything you think. The head wants us to avoid failure, mistakes, and pitfalls. Its analytical approach will keep us from having the will and courage to make the decisions that lead us to what we really want.
Insight. Confusion sometimes results when we don't want to agree with the truth. Maybe our truth makes us uncomfortable, and it takes us to our discomfort zone. But confusion disappears in the face of the heart's truth.
The heart is always helping us to decide, and our confusion is often the smoke screen obscuring our truth.
Following the heart is an individualized experience. But we each have an inner compass providing answers to our questions and challenges in our decision making.
Decision making from the heart takes courage in trusting and boldness in accepting its challenge.
Following your heart may make you uncomfortable and the discipline may make you feel fearful. But its wisdom will lead you to innovation, creativity, originality, artistry, and resourcefulness and it requires us to surrender and lead from the unfamiliar.
Lead From Within: Following your heart when it comes to decisions will result in getting you where you ought to be, doing what you ought to be doing, and being who you are meant to be.
---
N A T I O N A L   B E S T S E L L E R
The Leadership Gap: What Gets Between You and Your Greatness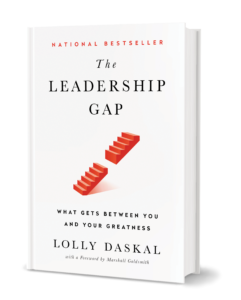 After decades of coaching powerful executives around the world, Lolly Daskal has observed that leaders rise to their positions relying on a specific set of values and traits. But in time, every executive reaches a point when their performance suffers and failure persists. Very few understand why or how to prevent it.
---
Additional Reading you might enjoy:

Photo Credit: Getty Image
---
Lolly Daskal is one of the most sought-after executive leadership coaches in the world. Her extensive cross-cultural expertise spans 14 countries, six languages and hundreds of companies. As founder and CEO of Lead From Within, her proprietary leadership program is engineered to be a catalyst for leaders who want to enhance performance and make a meaningful difference in their companies, their lives, and the world.

Of Lolly's many awards and accolades, Lolly was designated a Top-50 Leadership and Management Expert by Inc. magazine. Huffington Post honored Lolly with the title of The Most Inspiring Woman in the World. Her writing has appeared in HBR, Inc.com, Fast Company (Ask The Expert), Huffington Post, and Psychology Today, and others. Her newest book, The Leadership Gap: What Gets Between You and Your Greatness has become a national bestseller.
---