A Cherokee elder was teaching his children about life.
He said to them, "A terrible fight is going on inside me.
"It is a fight between two wolves. One is the wolf of joy, love, hope, kindness and compassion; the other is the wolf of fear, anger, cynicism, indifference and greed.
"The same fight is going on inside of you—and every other person, too."
The children thought about it for a moment and then one child asked, "Which wolf will win?"
The elder replied, "Whichever one you feed."
Think about your leadership. Which wolf are you feeding? Which wolf do you need to subside?
Leadership is a choice between
joy and fear
greed and kindness
love and indifference and control and compassion.
In the space between our choices— there's a lifetime.
It's the difference between the path you walk and the one you leave behind; it's the gap between who you thought you could be and who you really are.
To say you have no choice is to relieve yourself of responsibility.
Leadership is being accountable and feeding your soul.
 We make our choices, and our choices make us.
Lead From Within:  Leadership is never an accident. It is always the result of high intention, sincere effort, and intelligent execution, wise choices and feeding our soul.
---
N A T I O N A L   B E S T S E L L E R
The Leadership Gap: What Gets Between You and Your Greatness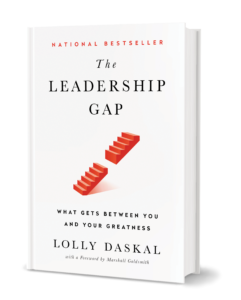 After decades of coaching powerful executives around the world, Lolly Daskal has observed that leaders rise to their positions relying on a specific set of values and traits. But in time, every executive reaches a point when their performance suffers and failure persists. Very few understand why or how to prevent it.
---
Additional Reading you might enjoy:

Photo Credit: Getty Images
---
Lolly Daskal is one of the most sought-after executive leadership coaches in the world. Her extensive cross-cultural expertise spans 14 countries, six languages and hundreds of companies. As founder and CEO of Lead From Within, her proprietary leadership program is engineered to be a catalyst for leaders who want to enhance performance and make a meaningful difference in their companies, their lives, and the world.

Of Lolly's many awards and accolades, Lolly was designated a Top-50 Leadership and Management Expert by Inc. magazine. Huffington Post honored Lolly with the title of The Most Inspiring Woman in the World. Her writing has appeared in HBR, Inc.com, Fast Company (Ask The Expert), Huffington Post, and Psychology Today, and others. Her newest book, The Leadership Gap: What Gets Between You and Your Greatness has become a national bestseller.
---