Everything that happens to you matters to me.
Truth: People who feel cared about are more effective at work.
Truth: People who feel cared about are more positive.
Truth: People who feel cared about are most likely to care about others.
Some think caring is a "soft skill" that doesn't belong in an organizational setting. But heart-based leaders know that when you engage the heart of caring, you ignite the mind of those who work for you.
Caring is good for the bottom line. People buy from people, not companies. Your people are your most important asset, and the investment of caring for them protects that asset.
When you care, you cultivate deeper relationships:
Caring means understanding. Employees who are cared about understand that they are working for a higher purpose than just themselves. They think of themselves as part of a team.
Caring means connecting and engaging. Show your employees that who they are is as important as what they do. Connection and engagement bring out people's passion and potential.
Caring means appreciating and acknowledging. Words and gestures of appreciation have a major impact on those who work so hard for you. It's just as important to acknowledge their personal stories and struggles. Know who they are when they are not at work.
Caring means energizing.  Let your employees to know that their hard work and energy matter. Your caring gives them the energy they need to pursue their work with purpose.
Caring means seeing. See people as individuals, and treat them – and their individual needs and goals – with respect. People willingly go the extra mile when they know they're being seen.
Caring means listening. Many leaders are not the best listeners; they are action oriented and goal oriented, and they want to fix everything right away. Slow down and really listen.
Caring means openness and sharing. As you make decisions, share information and allow your ideas to be open for improvement and refinement. Look for places, projects, and processes where employees can help and share. Allow your caring to lead the way.
Caring means fostering development. Everyone wants to be able to do something and do it well.  Caring for others allows them to develop and master their skills and move to the next level. Caring leaders allow others to develop their mastery.
As a caring leader, you are the thread that weaves your people together through processes, projects, celebrations, communication, joys, and jobs. When you do that well, the rest will take care of itself.
Leadership is a human element. Caring is a human essential.
Lead From Within: Without an investment in caring, as a leader you are risking the organization. Be the leader who cares about others and lets them know they are making a difference.
---
N A T I O N A L   B E S T S E L L E R
The Leadership Gap: What Gets Between You and Your Greatness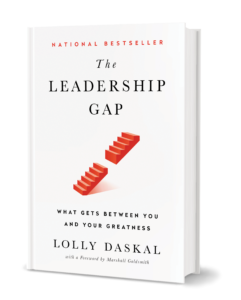 After decades of coaching powerful executives around the world, Lolly Daskal has observed that leaders rise to their positions relying on a specific set of values and traits. But in time, every executive reaches a point when their performance suffers and failure persists. Very few understand why or how to prevent it.
---
Additional Reading you might enjoy:

Photo: Rachael Preeya
---
Lolly Daskal is one of the most sought-after executive leadership coaches in the world. Her extensive cross-cultural expertise spans 14 countries, six languages and hundreds of companies. As founder and CEO of Lead From Within, her proprietary leadership program is engineered to be a catalyst for leaders who want to enhance performance and make a meaningful difference in their companies, their lives, and the world.

Of Lolly's many awards and accolades, Lolly was designated a Top-50 Leadership and Management Expert by Inc. magazine. Huffington Post honored Lolly with the title of The Most Inspiring Woman in the World. Her writing has appeared in HBR, Inc.com, Fast Company (Ask The Expert), Huffington Post, and Psychology Today, and others. Her newest book, The Leadership Gap: What Gets Between You and Your Greatness has become a national bestseller.
---