The most important aspect you can bring to your leadership is to strive to be your best. That means setting high expectations and standards and refusing to accept anything less.
This same principle applies to you personally, your company, your team, and the products and services you represent.
When you accept nothing less than the best you become the kind of leader who focuses their energy—and the energy of others—on achieving their best.
Here are some ways to make sure you're getting the best from yourself and your team:
Align with the best. In every situation and relationship—from service providers to component vendors—connect yourself with the best people producing the best products in the best organizations.
Bring real meaning to your mission and purpose. We all want to create something of significance. Remind your team how the work they're doing connects to your mission and makes a difference in the world.
Show appreciation. Every opportunity is an opportunity for acknowledgement. The best leaders thank people for the quality of their work and their role in making a company, product, or project a success. Every time you thank someone, you are making them feel more valuable and more motivated.
Give freedom. Allow people the room to be free to make mistakes, to take chances, to set the standards higher than the status quo. Freedom fosters insight, thought, and action, and increases engagement and self-esteem.
Pay attention. No one is at their best when they are being ignored. If you expect those around you to act like a key player, make sure you're treating them like one. Paying attention does not mean you take over. It means you listen, without interrupting, ready to learning something new.
Have a common cause. A clear vision and sense of direction can unite everyone around a common cause. A great goal brings people together.
Make service your central focus. In any organization, the core purpose is ultimately to be the best you can be for those you serve. A strong focus on service has the power to bring about great change.
It is not enough to think you are the best; you need to follow up with action to be the best.
As the leader of a business, an organization, or a team, you should be asking yourself these questions every day: How am I going to be my best? How am I going to leave people better than I found them?
Lead From Within: It's the determination to be the best that makes us want to make a difference—which is usually the starting point of advancing to the top.
---
N A T I O N A L   B E S T S E L L E R
The Leadership Gap: What Gets Between You and Your Greatness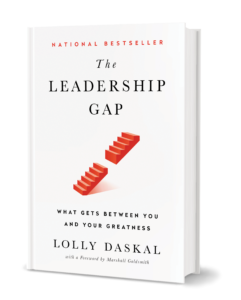 After decades of coaching powerful executives around the world, Lolly Daskal has observed that leaders rise to their positions relying on a specific set of values and traits. But in time, every executive reaches a point when their performance suffers and failure persists. Very few understand why or how to prevent it.
---
Additional Reading you might enjoy:

Photo Credit: Getty Images
---
Lolly Daskal is one of the most sought-after executive leadership coaches in the world. Her extensive cross-cultural expertise spans 14 countries, six languages and hundreds of companies. As founder and CEO of Lead From Within, her proprietary leadership program is engineered to be a catalyst for leaders who want to enhance performance and make a meaningful difference in their companies, their lives, and the world.

Of Lolly's many awards and accolades, Lolly was designated a Top-50 Leadership and Management Expert by Inc. magazine. Huffington Post honored Lolly with the title of The Most Inspiring Woman in the World. Her writing has appeared in HBR, Inc.com, Fast Company (Ask The Expert), Huffington Post, and Psychology Today, and others. Her newest book, The Leadership Gap: What Gets Between You and Your Greatness has become a national bestseller.
---