Leaders at every level understand that the world is changing, and changing rapidly. If we want to remain effective, the most valuable investment we can make is the development of our leaders today to ensure great leadership tomorrow.
When we invest in leadership for the future we need to ensure that we can keep up, both with technology and with increasing levels of interconnection and interdependence.
And we need to start today in order to cultivate the skills and attributes we'll require tomorrow:
Invest in Problem Solving: Our future leaders will no longer be able to get by with just solving problems and conflicts. They will have to be able to pivot problems—to turn negative situations into advantages and opportunities.
Invest In Agile Leadership Our future leaders will need to embrace new experiences, especially those that make them uncomfortable. They will need the ability to immerse themselves in an unfamiliar environment and get their bearings quickly.
Invest In Scientific Thinking. Our future leaders will need to be able to connect the dots between the past and the present as they look to the future.
Invest In Collaboration and Community. Our future leaders will need to learn how to look at the world through the eyes of others, especially where there are perceived differences or disagreements, and collaborate across communities. Doing so will help develop the kind of positive engagement that defuses tense situations and builds relationships.
Invest in Trust and Transparency. Our future leaders' values will be even more important than ever, and a climate of trust and transparency will remain critically important.
Invest in Forward Failure. Our future leaders will need to be able to "fail forward"—to shift from traditional problem-solving approaches to find the value in each effort and innovation regardless of the outcome. Every experience has something to teach us when we make it less about failure and more about innovation and creativity.
Invest in Diversity. Our future leaders will value the benefits that come from differences in gender, nationality, culture, and age. Every person brings a unique perspective to the table; when we listen, we lead.
Invest in Constant Contact. Our future leaders will be required to create, connect, and engage within a variety of networks, social platforms, communities, and cultures in order to acquire near-infinite resources and perspectives.
Invest in Coherence and Clarity. Communication continues to become more complex as it happens across different platforms and between generations and cultures. Our future leaders will need to communicate coherently within interrelated organizations and challenges.
Invest in Value Propositions. More than ever before, our future leaders will need to differentiate themselves from others. Leaders will need to know what sets them apart and express their unique values by seeking out tasks that show others their strengths and character.
Invest in Shared Contribution. The hallmark of our future leaders will be an environment of shared vision, shared values and shared purpose. Because leaders cannot always be physically present to manage and lead, the only way they can be sure their people are working in a concerted effort is to create a shared vision, guiding values, and clearly articulated strategies. As the world keeps changing and our organizations continue to expand, leaders at all levels must understand that this is one of their primary responsibilities. Shared investment means a winning outcome for everyone.
If we are going to be successful in the future, we need to start investing in our leaders today, so we can cultivate great leadership of tomorrow.
Lead from Within: When all skills are cultivated, the most compelling is leadership from within. As leaders of the future, we will need the capability to see what's missing and what needs to be cultivated, beginning with ourselves. Others count on us to be the best we can be, and the future awaits no one. The present is here now, with an opportunity to begin creating our best future selves.
---
N A T I O N A L   B E S T S E L L E R
The Leadership Gap: What Gets Between You and Your Greatness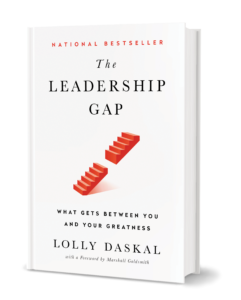 After decades of coaching powerful executives around the world, Lolly Daskal has observed that leaders rise to their positions relying on a specific set of values and traits. But in time, every executive reaches a point when their performance suffers and failure persists. Very few understand why or how to prevent it.
---
Additional Reading you might enjoy:

Photo Credit: Getty Images
---
Lolly Daskal is one of the most sought-after executive leadership coaches in the world. Her extensive cross-cultural expertise spans 14 countries, six languages and hundreds of companies. As founder and CEO of Lead From Within, her proprietary leadership program is engineered to be a catalyst for leaders who want to enhance performance and make a meaningful difference in their companies, their lives, and the world.

Of Lolly's many awards and accolades, Lolly was designated a Top-50 Leadership and Management Expert by Inc. magazine. Huffington Post honored Lolly with the title of The Most Inspiring Woman in the World. Her writing has appeared in HBR, Inc.com, Fast Company (Ask The Expert), Huffington Post, and Psychology Today, and others. Her newest book, The Leadership Gap: What Gets Between You and Your Greatness has become a national bestseller.
---